It's been 13 years since Cindy Crawford gave birth to her youngest child Kaia and we can't believe how strong this family's genes are! A recent Instagram snap of the mother-daughter duo made us do a double take, as the two look more like twins than anything else.
The image shows Crawford and Kaia sitting in a closet, each holding an adorable pup and donning similar smiles and long hairstyles. But the similarities don't stop there! Everything about these two, from their cheekbones to their long legs, looks almost identical! Kaia certainly is her mother's carbon copy.
Talking about her daughter's natural talent, Crawford told Into the Gloss in February 2014: "Modeling is just in her DNA or something, it's crazy. But I think she likes acting more than modeling… who knows? Things change."
Crawford is also a mom to 15-year-old Presley, who also inherited her good genes, as well as her famous beauty mark.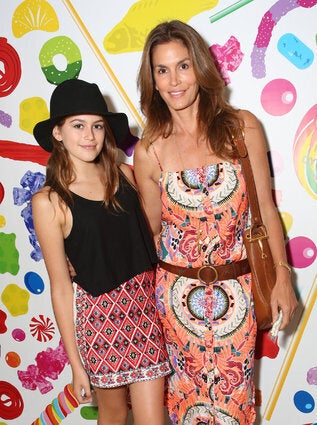 Celebrity Parents With Little Mini-Mes