One Vine video encapsulates how far Dean Del Mastro has fallen in the seven months since he resigned from Parliament.
Dean Del Mastro was sentenced Thursday to one month in jail and four months house arrest for electoral fraud. He will be on probation for 18 months.
CTV News reporter Richard Madan captured the moment Del Mastro, handcuffed at the wrists and shackled at the ankles, was led into a police wagon.
On top of his jail and probation order, the former Conservative MP will be prohibited from running for office for five years. Del Mastro must also pay $10,000 to the Peterborough Electoral District Association.
Superior Court Justice Lisa Cameron defended the ruling, calling the sentence appropriate for Del Mastro, a first-time offender.
She called the offences an "affront" to Canada's democratic system.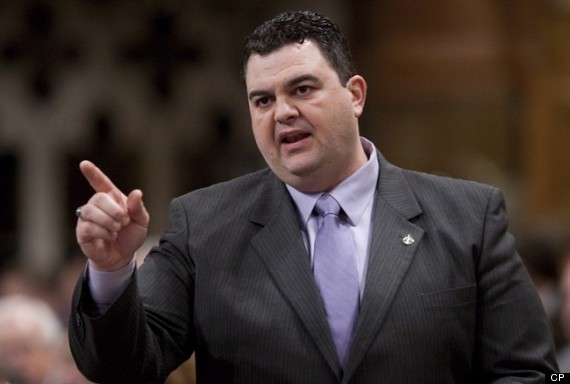 Back in the day: Then-Conservative MP Dean Del Mastro rises during Question Period in the House of Commons on Parliament Hill in Ottawa on March 1, 2012. Photo: Adrian Wyld/The Canadian Press
In October, an Ontario judge found the 44-year-old former MP for Peterborough guilty of overspending on his 2008 campaign.
Prior to his conviction, Del Mastro most notably served as Prime Minister Stephen Harper's parliamentary secretary for nearly two years between 2011 and 2013.
He announced his resignation in November.
Del Mastro remained defiant outside the courthouse just before his sentencing, telling reporters he wasn't worried about the possibility of heading to jail.
"I prefer to do whatever's necessary to stand for the truth," he said.
With files from The Canadian Press
Also on HuffPost:
How Much Harper & Top Tories Have Aged