The strongest wage growth in Canada over the past year has been in Quebec and the Maritimes, while Western Canadian provinces have all fallen below average.
We'll just give you a moment to let that sink in.
According to StatsCan's latest survey of payroll employment, earnings and hours, Quebec saw a solid 4.5-per-cent increase in real wages in the year to April, the strongest of any province.
Check out this chart from StatsCan. When was the last time you saw an economic chart where Quebec and Atlantic Canada trounced the west?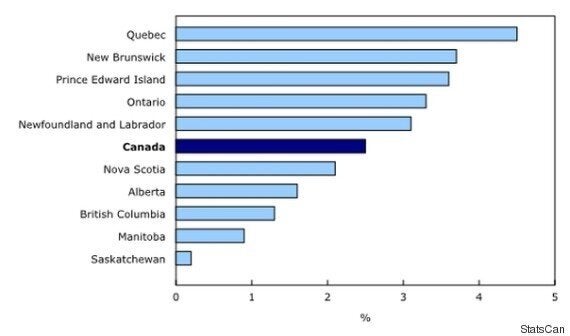 Atlantic Canadian provinces dominate the list with New Brunswick (up 3.7 per cent) leading P.E.I. (up 3.6 per cent), Newfoundland (up 3.1 per cent) and Nova Scotia (up 2.1 per cent).
Ontario wage growth came in at 3.3 per cent, better than the national average of 2.5 per cent.
Bringing up the rear is the west, with not one western province cracking the 2-per-cent wage growth mark. Alberta led with 1.6 per cent, followed by B.C. at 1.3 per cent and Manitoba at 0.9 per cent. Wages in Saskatchewan have flatlined, up a paltry 0.2 per cent in a year.
The oil price collapse is easily the most important factor making this happen. As recently as a year ago, when oil was upwards of $100 a barrel, the chart was almost a reverse of itself, with western provinces above average and Ontario and Quebec bringing up the rear. This is the same chart from April of last year: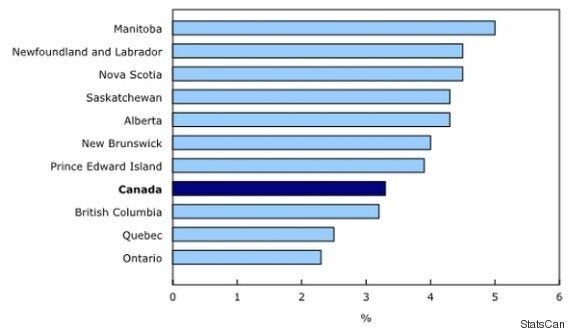 With oil prices and energy costs down, we are seeing a shift in national income, away from energy-exporting parts of the country and towards energy-importing parts of the country.
You can see this just as starkly in the data for wage growth by industry. Earnings in the mining, oil and gas sector have dropped a full 2.5 per cent over the past year. Manufacturing, on the other hand, is being buoyed by lower energy prices and a weaker loonie that makes exports worth more in Canadian dollars. Wages are up a solid 6.3 per cent over the past year.
Here's where salaries and rising and falling in Canada: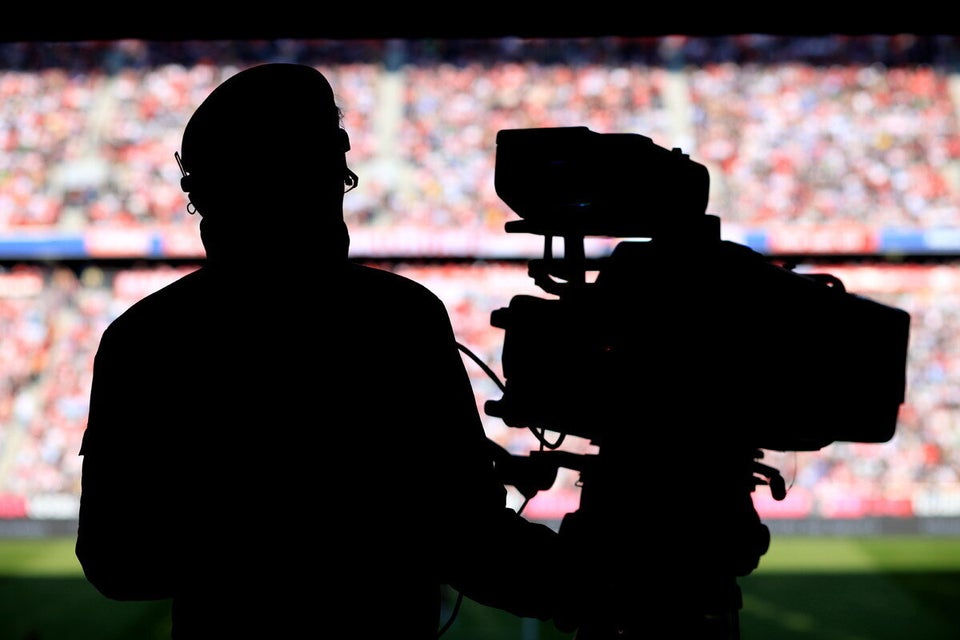 Best, Worst Wage Gains In Canada, April 2015