SUNRISE, Fla. - Connor McDavid is now officially a No. 1 overall draft pick.
The long-expected move became reality Friday night when the Edmonton Oilers grabbed the centre, who will immediately face the burden of enormous expectation. Not only will he be playing in the place where Wayne Gretzky became a superstar, but he also already draws comparisons to Sidney Crosby and even LeBron James.
"It's an exciting time to be an Oiler and I know the fans are excited, and they should be," McDavid said. "Now that it's finally happened and I'm an Edmonton Oiler, I couldn't be more proud."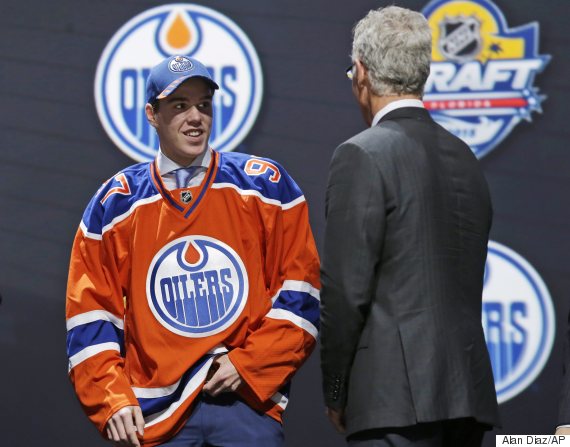 McDavid talks with Craig MacTavish, former head coach and former general manager of the Edmonton Oilers.
The Oilers haven't made the playoffs since 2006 but do have a bright future with McDavid. General manager Peter Chiarelli said Friday morning he has continually reminded himself since April that he needed to temper expectations for the phenom.
"He's such a good player, so you're going to hear me temper expectations for a long time," Chiarelli said. "He's going to have his ups and downs. He's a terrific player, he's going to really help our franchise when he gets up and running."
McDavid averaged nearly three points per game this past season for his Ontario Hockey League junior team in Erie, Pennsylvania. He registered at least one goal or assist in 27 consecutive games, the longest such stretch in the OHL in nearly a decade.
He becomes the fourth No. 1 pick heading to Edmonton in the last six drafts. None of the other three have experienced the NHL playoffs.
With files from the Canadian Press.
Like Us On Facebook

Follow Us On Twitter

Also on HuffPost
Oilers Reunion 30 Years After Cup Win