The majority 5-4 ruling overturns bans on gay unions in 13 states. Marriage equality is already recognized in 36 states and the District of Columbia.
Shortly after the Supreme Court made the announcement, HBO's hit series "Game of Thrones" weighed in to offer their own creative commentary on the historic announcement.
Using a toy of gay character Renly Baratheon and a pride flag backdrop, the account tweeted two simple words to accompany the image: "Be proud."
In a speech from the White House Rose Garden, President Barack Obama praised the decision as a victory for gay rights activists who have fought for "basic civil rights."
Before his address, Obama tweeted, "Today is a big step in our march toward equality. Gay and lesbian couples now have the right to marry, just like anyone else." He included the hashtag #LoveWins with his message.
Earlier, a majority of Supreme Court justices ruled states must issue marriage licenses to same-sex couples and recognize same-sex unions "lawfully-licensed and performed out of state," citing the 14th amendment.
Four justices dissented against the decision, including Justice Antonin Scalia, who called the ruling's symbolic message a "threat to American democracy."
Supreme Court justices who voted in favour:
Justice Anthony Kennedy
Justice Sonia Sotomayor
Justice Elena Kagan
Justice Ruth Bader Ginsburg
Justice Stephen Breyer
Dissenting Supreme Court justices:
Chief Justice John Roberts
Justice Antonin Scalia
Justice Clarence Thomas
Justice Samuel Alito
According to UCLA's Williams Institute, an estimated 390,000 married same-sex couples live in the United States. Approximately one million American same-sex couples, both married and unmarried, live together.
Justice Anthony Kennedy wrote in his majority decision that there is "no lawful basis" for states to refuse to recognize same-sex marriage performed lawfully out of their jurisdictions.
No union is more profound than marriage, for it embodies the highest ideals of love, fidelity, devotion, sacrifice, and family. In forming a marital union, two people become something greater than once they were. As some of the petitioners in these cases demonstrate, marriage embodies a love that may endure even past death. It would misunderstand these men and women to say they disrespect the idea of marriage. Their plea is that they do respect it, respect it so deeply that they seek to find its fulfillment for themselves. Their hope is not to be condemned to live in loneliness, excluded from one of civilization's oldest institutions. They ask for equal dignity in the eyes of the law.

The Constitution grants them that right.
Kennedy has also authored rulings on other major gay rights cases in the past two decades.
With files from The Associated Press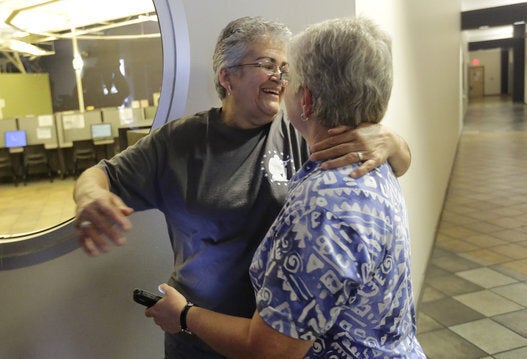 US Supreme Court rules on gay marraige