Oh Yeezus murphy. It looks like it's close to impossible to buy Kanye West's latest foray in shoe design — the Yeezy Boost 350.
The product was sold out within 10 seconds of its release on June 27. (Adidas even released an app on June 25 to allow people to reserve their shoes in advance.) Now, the shoe is selling on Ebay for the whopping price of $1,000 (and up). That's five times the shoe's retail price of $200 (if you do your shoe math).
We can't say that we're surprised. The 38-year-old rapper is a fashionable guy who gives us serious #shoegoals and, clearly, the idea of achieving these goals has made people go a little shoe-hungry.
Plus, Kanye's family has been getting people excited about the shoe long before its release:
Of course, his wife had nothing but nice things to say about her hubby's comfy shoes.
The Yeezus 350 Boost may be the next part of the Kardashian-West family to break the internet.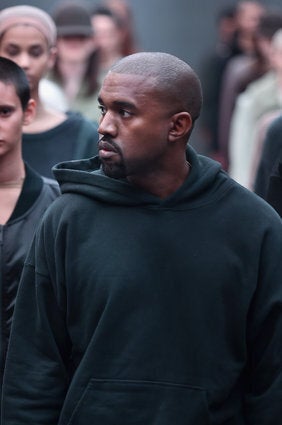 Kanye West x Adidas Original Show