With the amazing news about the Supreme Court's decision on marriage equality in the United States and Pride Week festivities coming to an end in Toronto, it's hard not to celebrate all things Pride, even on your nails!
So whether you want to continue the celebration or just bring some happiness to your digits, this easy statement nail art design by Robin Moses is absolutely perfect.
Dotticures are a great intro to the world of nail art. All you need is a relatively steady hand, some aluminum foil to put the polish on and a dotting tool or two (you can even use a toothpick or a bobby pin).
Start with a light blue, turquoise or white, and apply two to three coats until you reach full opacity. Allow your base colour to dry then get ready for a lot of dotting. It's best to work with one colour at a time, completing each of your 10 nails before moving on to the next colour.
In terms of the colours you choose, make sure that they are equal in vibrancy so that no one colour overpowers the others.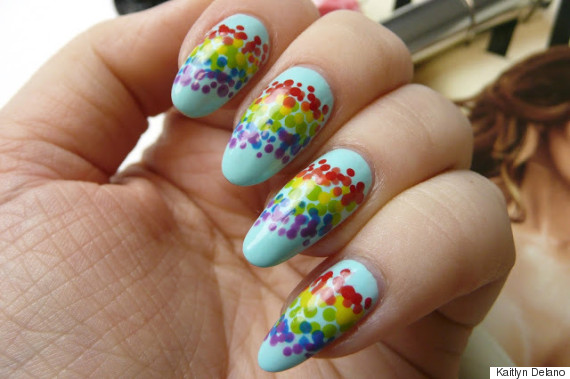 I found it was best to start in the middle, then work outwards each way. This ensures that your rainbow is centred on the nail and that you leave some empty space at the base and tip of your nail.
Begin by creating a line of green by making dots relatively random before then creating a second line, slightly overlapping the first. Make sure the second line is closer to the base of the nail with the yellow polish.
Repeat that step again with orange and then red polishes. Next, on the other side of the green line closer to the tip of the nail, create a line of dots with a blue polish then purple.
In the inspiration picture, the lines of dots are about one to 1.5 dots thick, but I decided on a little more loose lines so that you could still see the turquoise peaking through. This doesn't have to be perfect at all, so just do whatever is the most pleasing to your eye.
Allow all of the dots to dry for about 10 to 15 minutes then use a top coat to seal in the design. If you do this too soon, you run the risk of streaking and ruining your crisp dots.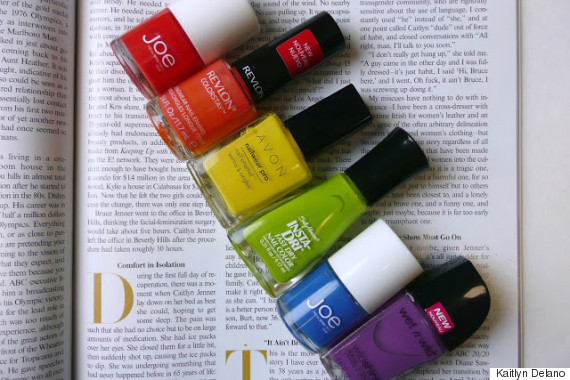 Colours used: Joe Fresh Tomato, Revlon Colorstay Marmalade, Avon Nailwear Pro Sunshine, Sally Hansen Insta-Dri Lickety-Split Lime, Joe Fresh Cobalt, Wet n Wild Wildshine Who is Ultra Violet? and Ceramic Glaze Smells Like Rain (for the base colour).
Kaitlyn Delano is a beauty blogger based in Toronto. You can read more of her stuff on her blog Kaitlyn Elisabeth Beauty.
ALSO ON HUFFPOST: