Criticism over an anti-terror tactical drill performed at an RCMP's Musical Ride event is raising renewed questions if militaristic demos are fit for the family-friendly Mounties horse show.
Video footage from a performance in Ottawa Saturday shows militarized vehicles storming into a ring, officers leaping out and throwing smoke grenades and pulling a shirtless actor out of a car, throwing him onto the ground during a mock arrest.
"Apparently sand is good for your skin," an announcer is heard saying off-camera over loudspeakers. The show continues with more flash grenades and officers in tactical gear raising their weapons, storming a shed to perform a second mock arrest.
The three-minute show synced to The Tragically Hip's "Three Pistols" ended with a recruitment pitch.
"The RCMP offers a career like no other if you want to make a difference in your community and country," the announcer continues. "This can be the career for you."
Sgt. Harold Pfleiderer said the footage being circulated is of the force's Emergency Response Team (ERT) demonstration to "show the public an example of the RCMP's operational response capability" in defusing "dangerous situations."
The demo was part of a sunset ceremony, he said in an email. It's meant to "thank citizens of the National Capital Region and all Canadians" for their support of the Mounties.
"ERT has been part of the Sunset Ceremonies in Ottawa for approximately 10 years," Pfleiderer said, clarifying they're not part of regular Musical Ride performances anywhere else.
Criticism flared after author and former CBC journalist Frank Koller published a blog post Sunday, calling the exercise a "tasteless, jingoistic" and a "bombastic, paramilitary show-and-tell."
Koller wrote:
Black-uniformed officers in body armour assume combat postures, the sharp "bang" of stun grenades, smoke bombs releasing white clouds, a huge, black armoured-personnel vehicle circling the scene .… ending with the take-down in the sand of a bad-guy in jeans and no shirt, who is then thrown into the truck and whisked away. All while an enthusiastic voice-over extolls the important goal of keeping Canadians safe.
Maclean's political editor Paul Wells derided the flash furor by clarifying the tactical exercises have been a part of the Mounties' Musical Rides for "several years," adding the ERT drills have always been"reprehensible."
Please return to your regularly-scheduled freakouts.

— Paul Wells (@InklessPW) June 29, 2015
Some vouched the tactical showcases aren't anything new.
@InklessPW I went about 5 or 6 years ago and they did a demo of drug heist with dogs. They have been showing off capabilities for a while.

— Jeffrey Doucet (@jeffrey_doucet) June 29, 2015
While others raised flags about possible politicized elements being woven into modern Musical Rides.
@InklessPW It has been going on at least 5 years. Last I saw it was framed more as cops & robbers not terrorists so that element may be new.

— Catherine Scott (@ScottCath) June 29, 2015
The tactical showcase was performed in two of the five scheduled RCMP Musical Rides in Ottawa last week.
It's part of a Mountie tradition that stems back to 1887 featuring 32 Mounties in red serge riding 32 black horses in choreographed formations.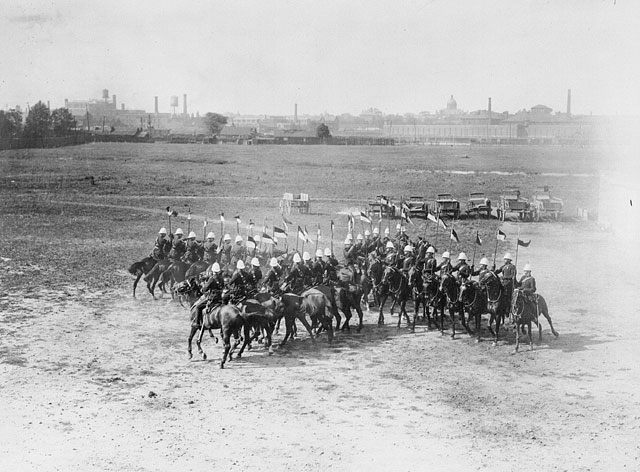 The Royal Canadian Dragoons perform their musical ride in the Canadian National Exhibition in 1920 in Toronto, Ont. Credit: Canadian National Exhibition/Library and Archives Canada
Four Royal Canadian Mounted Police Musical Ride members leap over hurdles on their horses in 1959. Credit: Canada. Royal Canadian Mounted Police/Library and Archives Canada
The Musical Ride tours throughout Canada and internationally. Show dates have been scheduled at venues in Atlantic provinces and Saskatchewan this summer.
Also on HuffPost:
The Many Fashions Of The RCMP