We've seen our fair share of creative prom entrances.
There was the time a teen used his wheelchair as a chariot:
And then there was the teen who channeled "Sleeping Beauty" by showing up in an ambulance (she later apologized following a backlash):
She went to prom in an ambulance and woke up after she got kissed by prince charming lol pic.twitter.com/2Tsf79NWc3

— Captain Pajamas (@CaptainPajamas) June 14, 2015
This latest prom entrance out of Nova Scotia is just as outstanding ... and as far as we can tell, no one ended up in trouble this time.
Mackenzie Cole, 18, is graduating from Amherst Regional High School this year. The school has a tradition of students outdoing each other by showing up to prom in vehicles such as fancy cars and even ox-pulled carriages.
Cole, however, brought the art of the prom entrance to the next level when he took girlfriend Makaila Chisolm to the event in a helicopter last Thursday, CBC News reported.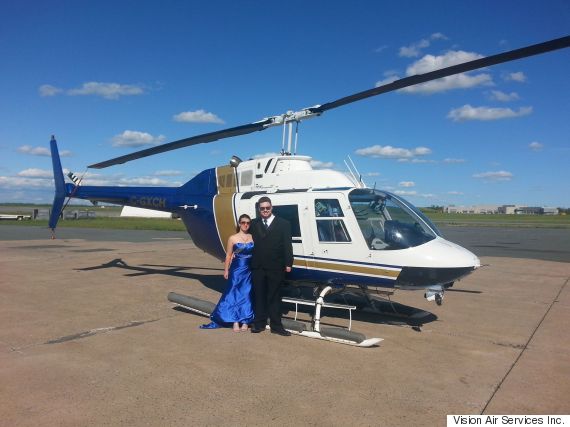 (Courtesy of Vision Air Services Inc.)
Cole spent approximately $2,000 renting a helicopter from Halifax's Vision Air Services.
Classmates were skeptical about the idea, but they were floored when it landed on a private property across from the school, CTV Atlantic reported.
Vision Air Services said this wasn't the first time it had gone to prom, and "likely won't be our last."
But we seriously wonder how teens could top this. Rappelling from a chopper like soldiers, perhaps? Renting a plane and skydiving in?
Those are extreme ideas ... and neither is nearly as romantic as this.
Like Us On Facebook

Follow Us On Twitter

ALSO ON HUFFPOST: