Thomas Mulcair admits he'd be "thrilled" if Olivia Chow decides to make a federal comeback this fall.
The New Democratic Party leader sat down with CP24's Stephen LeDrew Monday and was asked about reports his former colleague is mulling a return to politics.
Chow, who resigned her seat in Parliament in March 2014 to unsuccessfully run for mayor of Toronto, now teaches at Ryerson University. She represented the Toronto riding of Trinity-Spadina for more than eight years and was married to former NDP leader Jack Layton until his death in 2011.
Mulcair called Chow a "tremendous person, a wonderful politician, an experienced woman."
"I'd love to have her as part of our team," he said. "I'm keeping my fingers crossed that she decides to do just that."
The nomination meeting for the new riding of Spadina-Fort York, which includes most of Chow's old riding, has not yet been set. Mulcair said he anticipates Chow will get the nomination "rather quickly" if she decides to go for it.
A CP24 reporter asked Chow about her intentions during Toronto's Pride parade Sunday. While the ex-MP said she was happy teaching, Chow admitted there are some things in federal politics that bother her.
"Like (Bill) C-51," she said, referring to the Conservative government's anti-terror legislation. "How could anyone say that they oppose it and then they vote for it?"
When pressed, she told the reporter she was "possibly" considering a run.
She was similarly coy when asked by The Toronto Sun if she'll take the plunge. The newspaper reported the party has been working behind closed doors for her possible return.
Chow's reference to C-51 appears to be directed at federal Liberals, who voted for the bill but have promised to amend it if they win the next election to provide better oversight of Canada's security agencies.
If she runs in Spadina-Fort York, Chow will come up against Liberal MP Adam Vaughan, the former Toronto city councillor who won her old seat in a byelection last summer. Joe Cressy, the defeated NDP candidate, ended up winning Vaughan's spot on city council.
Vaughan told The Toronto Star Friday that he'd "happily" put his record up against Chow's and noted her exit from the federal scene last year left the public to pick up the tab of a byelection.
Vaughan has faced scrutiny from the NDP at points for voting in favour of the anti-terror bill.
Earlier this month, Chow took to Twitter to say she supported a "full repeal" of the bill. Mulcair has vowed to do just that if he becomes prime minister. Polls suggest his party has surged across Canada in the months since coming out against the legislation.
Once considered the front-runner in the Toronto mayoral race, Chow finished a distant third in an election race won by John Tory last October.
In her concession speech, she vowed to keep fighting for the "causes that matter" and paraphrased the famous words of her late husband.
"I believe that love is better than hate, that hope is better than fear, and I believe that you do too," she said.
Watch Mulcair's full interview with CP24: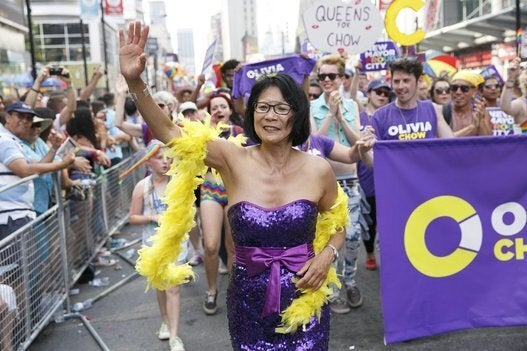 Olivia Chow Through The Years