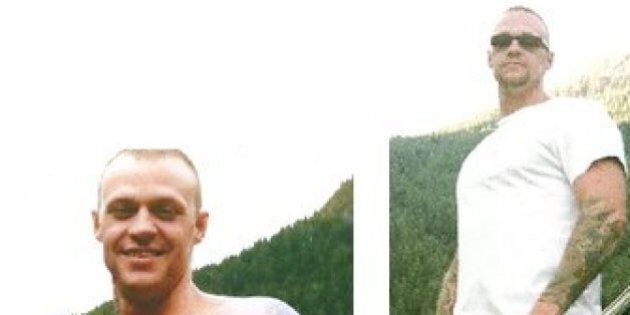 The mostly muscular men on Canadian Inmates Connect describe themselves as "loyal" and "shy at times," simply looking for a "special girl." The earnest profiles contrast sharply with the crimes they're serving time for.
Almost two dozen convicts from B.C. have submitted profiles to the website, which aims to "attract pen pals" who are willing to write to inmates.
"I like women who are really funny, smart, honest, confident, adventurous and reliable," writes Brian Widman, who is serving a life sentence for the second-degree murder of his former girlfriend in Coquitlam. She was 15 and he was 20 at the time.
Convicted of a gang-related murder in Delta, Paul Khela says he's "very family orientated" and "looking for a good friend interested in intellectual conversations."
Matt Johnson, one of the mass murderers who executed six people in Surrey, B.C., boasts that he makes a "great chicken fried rice and an awesome baked spaghetti." Now learning French in prison, he adds that he believes in "making the best out of a negative situation."
Dangerous offender Kevin Lewis, who tried to kill his girlfriend in Brentwood Bay, is looking for a "fun-loving female." His expected release date is listed as "none."
The site, run by Melissa Fazzina in Toronto, requires an application and annual $35 fee. Fazzina created the site in 2012 because she believes everyone deserves a second chance.
But she warns that anyone who contacts the convicts should proceed with caution. A disclaimer on the website states that it's not responsible for any type of relationship developed through its pages.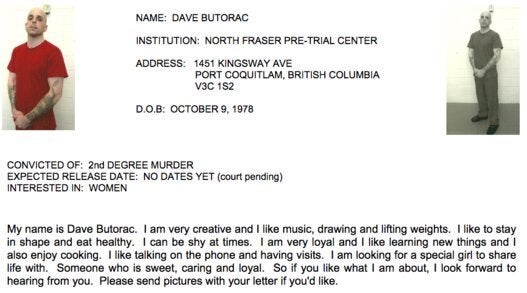 B.C. Convicts Looking For Love Online
Many convicts don't have Internet access but many list an email address or Facebook page, apparently updated and checked by friends or family.
Luka Rocco Magnotta, the convicted killer whose grisly crimes made headlines around the world, is the site's newest profile. He wrote that he is looking for a "prince charming."
A spokesman for Public Safety Minister Steven Blaney called the website "outrageous and offensive to victims of crime."
Blaney has asked that Correctional Service Canada "explore all options to ensure that dangerous violent criminals and sexual predators are not able to further exploit individuals," Jeremy Laurin said Monday night in an email.
"The operator of this website should seriously reconsider the platform she is giving to convicted criminals."
With files from The Canadian Press