The city of Kamloops, B.C. has declared a state of emergency after a sudden thunderstorm flooded one neighbourhood, forcing around 100 people to leave their homes.
Heavy rains pounded down around 4 p.m. Tuesday, quickly dumping a metre of water on Oak Hills trailer park in the Westsyde area.
"I have heard from some people that they've got water right in their living rooms, rivers running through their trailers is what they've told me," said resident Michael McDonald.
Initial reports suggested police evacuated 17 residents, but Fire Chief Dale McLean said the number grew by more than five times over the course of the afternoon and evening.
Assistant fire chief Curtis Bossert said that reports suggest a debris dam let loose above a nearby road, which may have led to the flash flood.
The city said Tuesday that there haven't been any injuries, and that an emergency reception centre has opened at Interior Savings Centre Parkside Lounge.
One man shared a timelapse of the downpour as it passed over the city on YouTube, showing the skies growing dark as the storm rolls in. (Watch above.)
Others took to Twitter and Instagram to share photos and videos of black clouds, gumball-sized hail, sharp bursts of lightning, and flooded streets.
With files from the Canadian Press.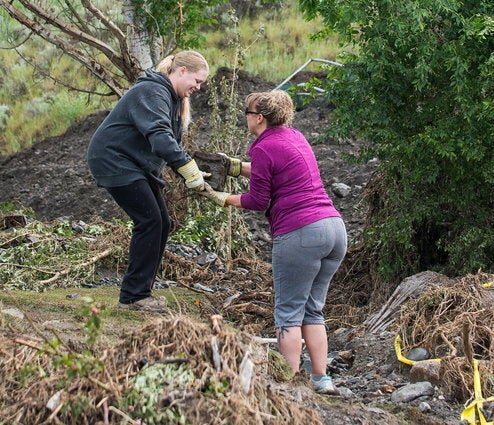 Cache Creek, B.C. Flooding, May 2015