Change.org
Cash Cayen doesn't give up easily. The Timmins, Ont., girl was left disappointed after she tried to register for a robotics course at a local library and was refused entry because she's a girl.
As a result, Cayen decided to take matters into her own hands. On Tuesday, the young girl started a Change.org petition demanding that Timmins Public Library allow girls to participate in the robotics course. In just two days, the petition received over 3,000 signatures!
According to the Timmins Public Library website, the robotics course is a "special boys program ages 9-12 years old." Cayen says she spoke with Assistant Library Director Elaine De Bonis, who told her: "Boys academic and literacy skills don't improve over the summer break therefore this program would only be offered to boys."
On Change.org, Cash's mother explained that the girl's original goal was 10 signatures, but "then she settled on 100, so when she saw that she had over 1,000 supporters this morning she was thrilled and said 'they have to let girls in now!'"
Apparently, other parents also tried to register their daughters in the course, but were turned away.
In the petition's comments, many wrote their disappointment in the library for excluding girls. One woman wrote: "This is gender biased and very wrong. Girls should be able to learn about science, too!"
Another said, "How can we expect to get more girls involved in predominately male oriented careers like science and engineering if they're never given the opportunities to foster their interests and/or potential?!"
Thanks to the rally of support Cash has received, the library issued a statement on Thursday apologizing for the "misunderstanding" and stating that all children between the ages of 9 and 12 are allowed in the robotics program.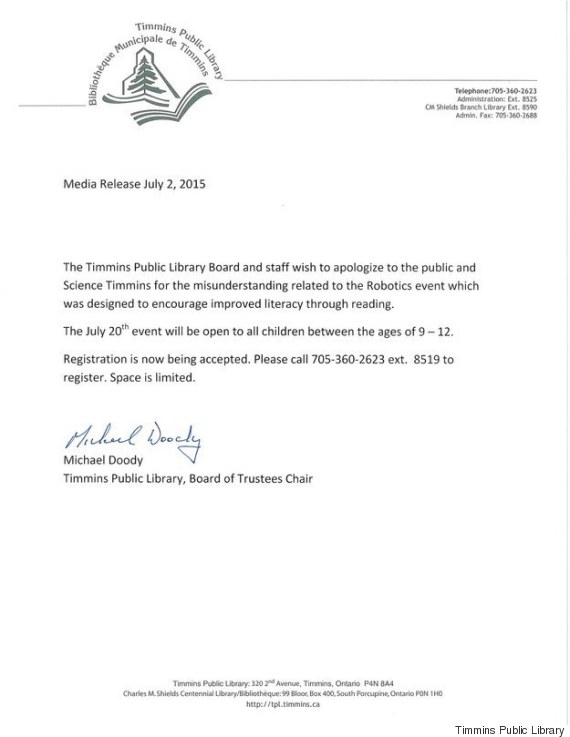 ALSO ON HUFFPOST:
9 Ways Parents Can Combat Gender Stereotypes