An Edmonton bachelor party prank ended in what resembled something straight out of a Hollywood movie after armed officers, a police helicopter and the K9 unit were called in.
Ten of Landon Scott McHardy's friends thought they'd pull a stunt on the groom-to-be, with plans to ambush him in his Richie area home and kidnap him for a backyard barbecue and fire.
They had it all planned out — complete with a rented U-Haul for transportation, nylons to obscure their faces, and pool noodles covered in duct tape to resemble baseball bats.
"We were going to kidnap him when he came into his house, home from work, by throwing a sleeping bag over him and taking off, throwing him in the back of the car and driving off to his bachelor party," Dan Tansy, the best man, told Global News.
What the men did not consider is how this would appear to neighbours, who were not told of the plan.
As the men rolled into the neighbourhood, their U-Haul blasting heavy metal music, and climbed out of the van in their intimidating costumes, six different neighbours witnessed what they thought to be a crime-in-progress, and called police, reports VICE Canada.
As the men awaited anxiously inside McHardy's home, a knock came at the door. They quickly realized it was a group of armed police officers, and not their would-be victim.
Gavin Wilson told VICE he answered the door, trying to explain that they were there for a bachelor party prank.
"I just kept yelling at the guy over and over that it was a bachelor party," said Wilson. "[I] assumed that I looked very scared."
The men were given a lecture by police, after officers ran their IDs and tested their foam bats. They were told a K9 unit and police helicopter had also been dispatched, along with other police resources.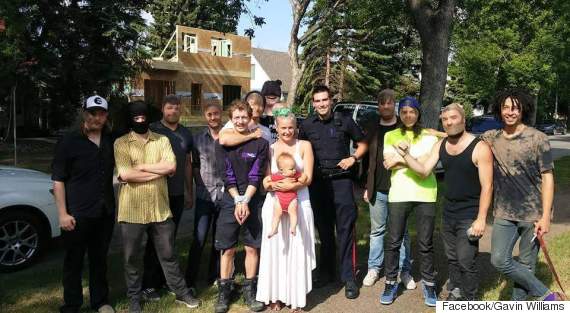 (After the group was cleared of any wrongdoing, they posed for a photo with one of the officers who responded to the call. Courtesy, Gavin Williams.)
"They understood we had good intentions but it was executed poorly," Tansy told Global. "We had everything planned except informing the neighbours what we were doing."
According to The Daily Mail, the police intervention didn't put a damper on the group's party plans, and they still ended up throwing the party McHardy deserved.
Like Us On Facebook

Follow Us On Twitter
ALSO ON HUFFPOST:
April Fool's Pranks That Went Horribly Wrong