UPDATE: On Thursday, Jim Carrey apologized to the Echols and other families for tweeting out photos of their children with autism.
"I'd like to apologize to the Echols family and others for posting a pic of their kids w/o permission," the 53-year-old actor wrote on Twitter. "I didn't mean to cause them distress."
According to Independent UK, mom Karen Echols said she appreciated the apology.
On Tuesday, Jim Carrey caused quite the controversy on Twitter after he slammed California's new law to remove vaccination exemptions, regardless of personal or religious reasons.
While Carrey has often vocalized his campaign for "greener" vaccines, the Canadian comedian outraged one mother when he tweeted a photo of her autistic son without permission during his rant.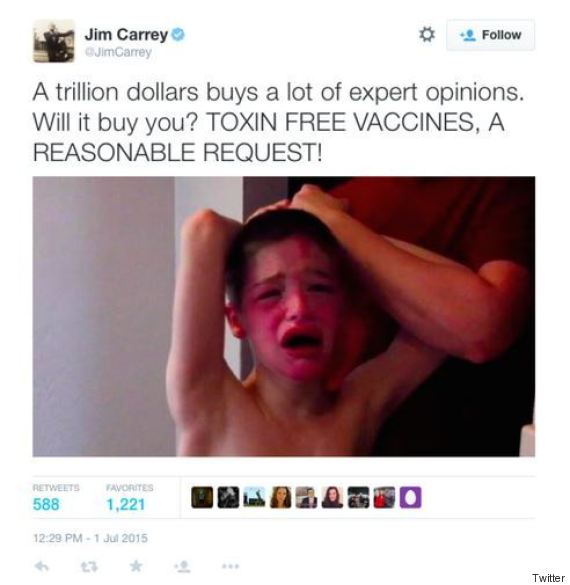 On Wednesday, Carrey posted a series of tweets with photos of children with autism. One image showed a 14-year-old Oregon boy named Alex Echols, crying and holding his hands over his head.
The tweet was first brought to the attention of Alex's mother Karen after her brother-in-law posted it to her Facebook. Karen was shocked and upset that Carrey tweeted the image. "Jim Carrey has a huge platform — a huge following — and is misrepresenting my son's image by attaching it to his anti-vax rant," the mother told Buzzfeed.
Alex was born with tuberous sclerosis (TSC), a rare genetic disease that causes tumors to grow all over the body, including the brain. Many with TSC also have autism. However, Carrey's tweet insinuated he had autism because of vaccines.
Karen and her husband Jeremy are very open about their son's condition and even maintain a website and Facebook page to help raise awareness. Their other family members were also shocked and "disgusted" that Carrey would use Alex's photo for his rant.
Karen's sister Elizabeth Welch posted an image of the tweet on Instagram, saying: "I'm very disgusted and sickened that a celebrity would use a photo like this that was used in the first place to spread awareness of Tuberous Sclerosis to mock him and and my sister for vaccinations. Even if that was not his intended outcome, it is what happened."
On Wednesday night, Alex's photo was removed from Carrey's tweet after his mother filed a copyright complaint with Twitter. Carrey has not yet commented on the incident.
Also on HuffPost
Celebs React To California's Mandatory Vaccine Law