Vinny Chase. Johnny Drama. Ari Gold. TURTLE. You know what these names are missing? A woman's voice — which is exactly why one group of women in Toronto are planning an epic evening of live-reading "Entourage" to the joy of many.
In an event announced on Facebook by filmmaker Chandler Levack, on July 9, a group of actors (including Katie Boland, Lauren Collins, Cara Gee and Kayla Lorette) will be posing as the characters from "Entourage" and giving it the feminist treatment it so richly deserves. The role of Ari Gold is yet to be announced.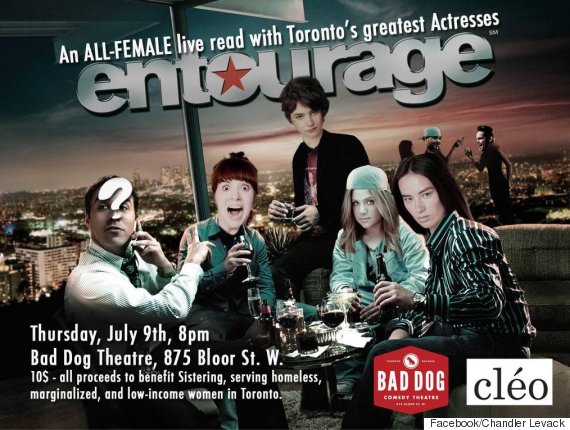 But why "Entourage"? Because the TV show (and now movie), beloved by some for its aspirational, Hollywood high life qualities, has long been plagued by problematic portrayals of women. The recent film release prompted one reviewer in L.A. Weekly to ask, "Has [director] Doug Ellin ever met a woman?"
The issues range from objectification to repeated portrayals of women as angry and irrational, without any real attempts to show them as, well, people.
So that's exactly what Levack and co. will be doing on July 9. Admission is $10, and all proceeds will go to Sistering, which serves homeless, low-income and marginalized women in Toronto.
Also on HuffPost
100 Highest-Rated Movies On Rotten Tomatoes