Gavin Lerik isn't in trouble for sneaking downstairs in the the middle of the night to watch cartoons — because he ended up saving his family from a fire at their home in Sooke, B.C.
The six-year-old boy was watching TV just after midnight Thursday when he noticed an orange glow from under the bathroom door, reported CTV News. He discovered the dryer was on fire.
Gavin knocked on his parents' bedroom door, but when that didn't rouse anyone, he started kicking it, said CBC News.
Gavin's dad, Craig Lerik, was able put out the dryer fire with a garden hose before firefighters arrived, according to the outlet.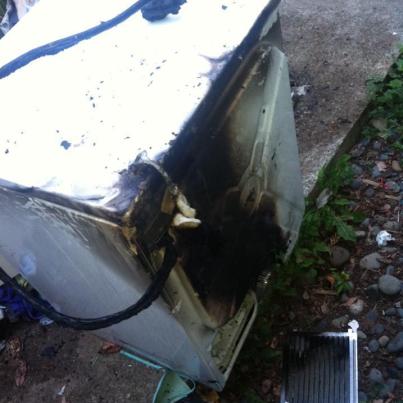 Firefighters said the boy not only saved his family but also likely prevented more damage. Sooke Fire Chief Steve Sorensen told CTV that the fire could have spread to the heavily treed neighbourhood because there's no municipal water nearby.
Gavin's dad said on Facebook that the boy's only regret is that school is over because he couldn't tell all his classmates about what happened.
However, Gavin was allowed to help fire crews carry their equipment, which he was quite excited about, said his father.
Like Us On Facebook

Follow Us On Twitter

Follow Us On Instagram
ALSO ON HUFFPOST:
Good News Stories From B.C., 2014