We've seen a lot of florals this season — from weddings to dresses to hair accessories — but we've seen nothing like these stunning shots of "bearded dame" Harnaam Kaur.
Kaur was diagnosed with polycystic ovary syndrome, a disorder that caused her to grow facial hair since the age of 11, she tells Rock 'N Roll Bride.
She recalls waxing her face two to three times a week, and sometimes even shaving.
But behind these stunning images of feminine beauty, Kaur says she has also dealt with bullies throughout her life, which resulted in suicidal thoughts and self-harm.
"My bedroom was my only safe haven. I was hugely depressed. I remember sitting on my bed and thinking about taking my own life. But instead, as I sat there, I started to counsel myself. I told myself 'The energy you are putting into ending your life, put all that energy into turning your life around and doing something better,'" she tells the site.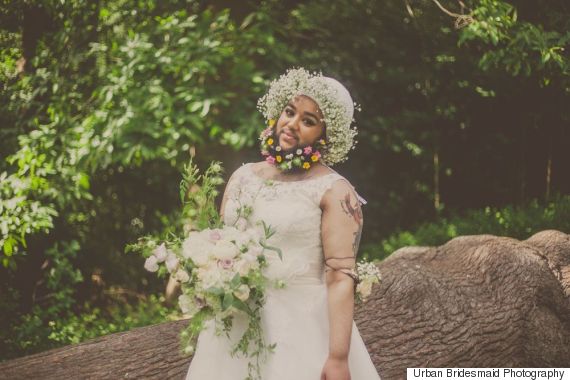 Kaur soon realized the importance of loving her body, and loving herself. She is now an activist who promotes positive body image and has even given herself the title Queen Beard. Although she had originally kept her beard for religions reasons (Kaur is Sikh), she decided to keep it to show a diverse and different image of femininity.
Recently, she was contacted by London-based photography studio Urban Bridesmaid Photography, to put together a summer wedding photo shoot for fun featuring Kaur modelling a vintage-style white wedding gown from Cutting Edge Brides and floral accessories (including a crown and beard flowers) from Wild Coco.
Photographer Louisa Coulthurst of Urban Bridesmaid said she was inspired to shoot Kaur after seeing images of her at a photo exhibition of facial hair from around the world, the Daily Mail notes. Being the only female subject, Coulthurst was impressed by the 23-year-old's stance on challenging society's norms of beauty.
Below, we have included some of our favourite shots from Coulthurst's collection. Check out these beautiful images and the full gallery at Rock 'N Roll Bride.
Photo gallery

Harnaan Kaur's Floral Bridal Shoot

See Gallery