The last thing any couple wishes for their wedding is a freak hail storm, but for Calgary couple Helen Knight and Owen Chan, it actually produced one of the coolest wedding photos we've ever seen.
The couple was getting ready to celebrate last Saturday, and were out for some pre-party photos with photographer Cassie Molyneux.
Atop Tom Campbell's Hill Natural Park, Molyneux quickly snapped this apocalyptic-looking photo, 60 seconds before a massive hail storm struck.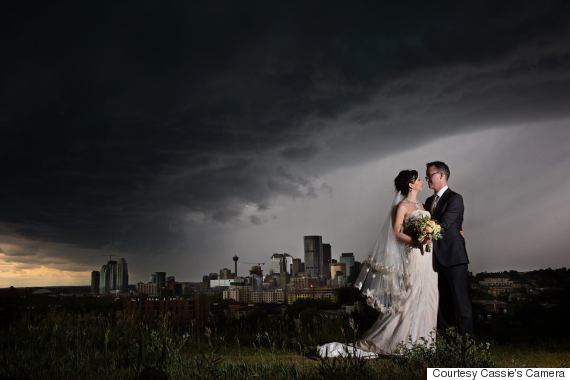 "Yes, we absolutely got caught in that torrential downpour!! The Bride Helen, the groom Owen and the groomsmen who had stayed behind to help out were DRENCHED instantly," the photographer wrote on a Facebook post of the photo, which has garnered almost 4,000 likes.
The couple wasn't about to let some hail pellets and rain dampen their big day. Molyneux says the wedding party worked together to dry off and help get the bride back to her blushing self.
"I already knew Owen and Helen to be two of the most amazing spirited people in the world but the fact that they basically had buckets of water dumped on them on their wedding day and still came out smiling, happy and full of love just blew me away and I now love them even more!"
Saturday's hail storm caught many Calgarians off-guard. At the Calgary Stampede, thousands of people had to run for cover after the surprise storm unleashed a torrent of hail on the fair grounds.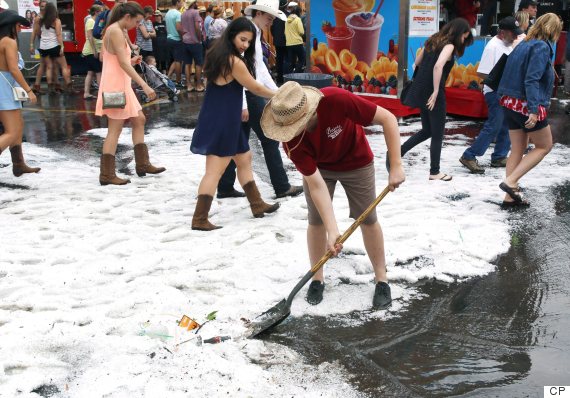 (A worker cleans up the aftermath of a severe thunderstorm that dumped heavy rain and hail on the Calgary Stampede grounds on July 4 , 2015. THE CANADIAN PRESS/Larry MacDougal)

Severe weather and wedding season seem to go hand-in-hand in Alberta, often creating tricky situations for couples who pray for good weather and have to deal with anything but.
In 2013, Calgary couple Christine and Mickey Cimolai's wedding day was disrupted after historic flooding ravaged the town of Canmore, washing out a portion of the highway and cutting off their guests' access to the ceremony.
They made the most of an unfortunate circumstance, however, and walked away with this unbelievable photograph from their post-nuptial celebration.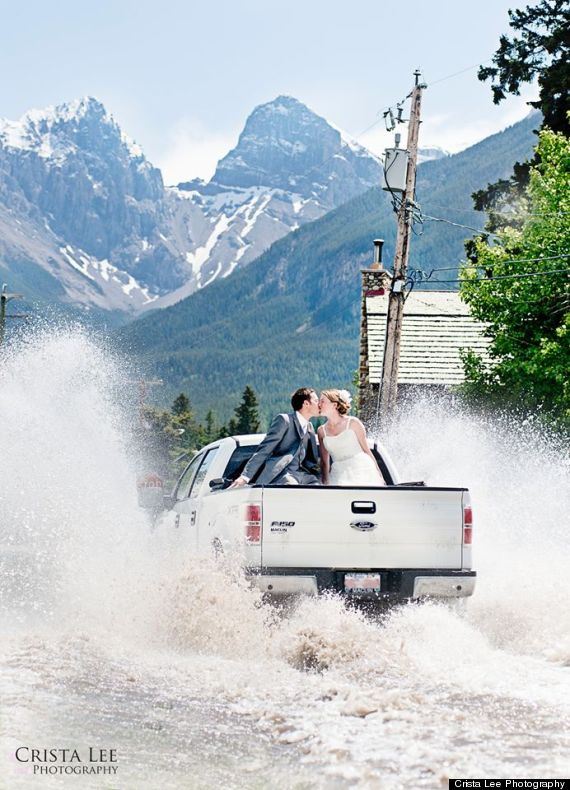 (Christine and Mickey Cimolai drive away through Canmore flood waters surrounding their rented condo. Photo: Crista Lee Photography.)

And in 2014, Alberta photographer Elizabeth van der Bij captured a truly electrifying moment during an engagement session, when a perfectly timed lightning strike in a field near Edmonton allowed for this unforgettable capture.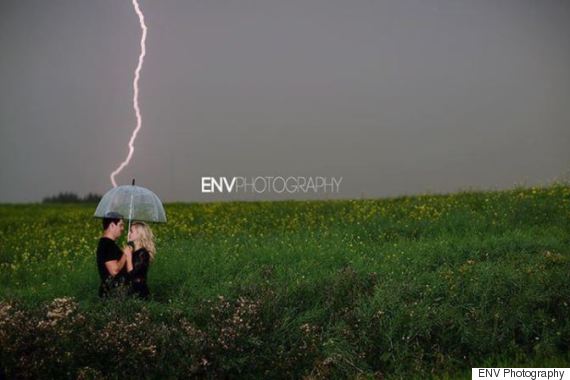 (Photo: Beth van der Bij)
Like Us On Facebook

Follow Us On Twitter
ALSO ON HUFFPOST:
The Most Romantic Wedding Photos