An 8-year-old girl has inspired Disney Store UK's website to change its labelling policy after she complained a Darth Vader costume was marked "for boys."
Izzy Cornthwaite of Lancashire, UK, is a diehard "Star Wars" fan and was looking to spend her birthday money online at the Disney Store. Unfortunately, she discovered that the store's "Star Wars" collection was entirely marketed to boys.
"There was no Princess Leia suit or anything to do with girls," Becky Heyes, Izzy's mother, explained. "She said she wanted a Darth Vader suit but couldn't have it because it was for boys. I said she could have it if she wanted it."
So Izzy ordered the costume along with a lightsaber. After she received it, she decided to write a letter to Disney expressing her disappointment in their gender-specific labelling. She also asked that the store change its labelling so that other girls could buy the costume in the future.
A few weeks later, Izzy received a reply from Disney saying, "The description for this costume has now been amended as we understand that all our little Jedis enjoy Star Wars."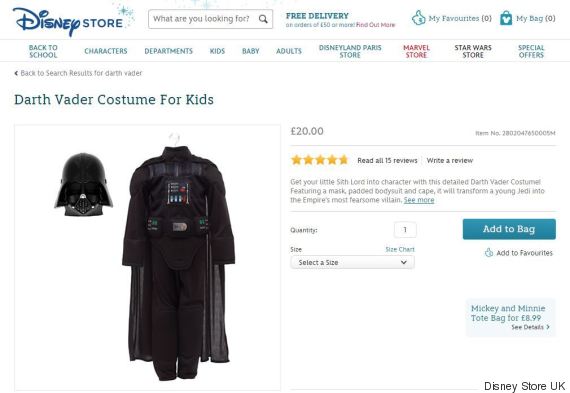 When the 8-year-old went online to check, she was surprised to find that not only had the costume's description changed from "boys" to "kids," but the store's entire collection had changed as well. Now everything from Disney Princess dresses to Iron Man costumes are labelled "for kids."
Izzy's mother and her partner Jason Cornthwaite told Lancashire Evening Post that they are "extremely proud" of Izzy. "She is a young girl who sent an email and for them to change things is extraordinary," the girl's mother said.
Nick Roden, Izzy's principal at St. Joseph's Primary School, agreed: "It's amazing that a child so young can manage to get a multi-national corporation to change their policy for the better."
While this is certainly a positive change, Disney Store U.S. has yet to make the transition.
ALSO ON HUFFPOST:
9 Ways Parents Can Combat Gender Stereotypes