A new Conservative Party fundraising pitch has sparked chatter because of two words it did not include.
For more than two years, Tories have hammered the Liberal leader in emails to supporters, soliciting donations by accusing Trudeau of wanting to push pot on children and having a stable of "media elites" in his corner. Often, such pitches ignored Thomas Mulcair's New Democrats entirely.
But things may be changing. In another sign that the Tories are taking the threat of the NDP more seriously, an email the party sent Monday directly targeted Mulcair and a comment made by a key member of his shadow cabinet.
The email, sent on behalf of Manitoba Tory MP Lawrence Toet, criticized NDP MP Niki Ashton for taking to Twitter Sunday after Greece's referendum. Her message appeared to celebrate that voters rejected more austerity measures in return for rescue loans.
"Is the NDP policy to be more like Greece?" Toet asked in the email, echoing tweets from Employment Minister Pierre Poilievre earlier in the day.
"That vote could mean Greece defaulting on billions of dollars of debt and leaving the Eurozone. Is that really the economic leadership we need in Canada?"
Toet wrote that Greece's economic policy led to ATMs running out of cash and banks closed for a week.
"Now, Thomas Mulcair is promising the same high tax, high debt policies that created the type of chaos we see in Greece today," he wrote. "Even worse, he attacked Prime Minister Stephen Harper in 2012 for refusing to use Canadian tax dollars to bail out Greece! That's money that would be gone forever if we had let Thomas Mulcair have his way."
Toet was referencing how Mulcair backed a plan put forward by the International Monetary Fund and G20 countries three years ago to prop up faltering European banks with financial support. While the email makes no mention of how Liberals also supported that strategy, a statement from the Prime Minister's Office on Monday was critical of both opposition parties.
"As Greece defaults on loans from the International Monetary Fund, we are reminded that the Liberals and NDP called for Canada to join the list of countries now owed billions by Greece," the PMO said.
However, a graphic the Conservative Party released on social media Monday mocked just the orange team.
While it may seem rudimentary that a governing party would slam the official Opposition — especially just months away from an election — it appears to be part of a larger trend.
Akin also noted that Toet faces stiff competition this fall in the riding of Elmwood-Transcona from NDP candidate Daniel Blaikie, son of former MP Bill who held the riding for years.
In a speech to supporters at his Calgary Stampede barbecue last weekend, Harper took shots at both Mulcair and Trudeau on the issue of terrorism and their opposition to the ISIL mission.
"Thomas Mulcair actually refused to admit the October attacks on Canadian soil were terrorism," Harper said at one point.
"That's the NDP approach: if the facts don't fit your ideology, just pretend the facts don't exist."
And late last month, Conservatives released a graphic mocking Mulcair for stumbling on the issue of corporate tax rates during a radio interview. It marked the first time in months that the party's social media accounts mentioned the NDP leader in any way.
Still, Tories have not released an anti-Mulcair attack ad since 2012. Last week, the party released a controversial ad online that used images from ISIL propaganda videos to criticize Trudeau's position on the mission. The ad made no mention of the NDP.
Recent polls suggest the NDP is now out in front of both the Tories and Liberals, spurring increased pressure and scrutiny on Mulcair.
Just last week, the NDP leader was forced to answer questions about talks he had with the Tories in 2007 about becoming an environmental adviser to Harper.
Mulcair said he declined helping the Tories because of the government's position on the Kyoto climate accord. Former Tory aide Dimitri Soudas — now helping his fiancée Eve Adams pursue a Liberal nomination — told Maclean's talks broke down because Mulcair wanted a salary of $300,000.
"This looks like (it's about) Mulcair's rise in polls and Liberals getting angry and using this and trying to twist this," one source told The Sun's Peter O'Neil.
With files from The Canadian Press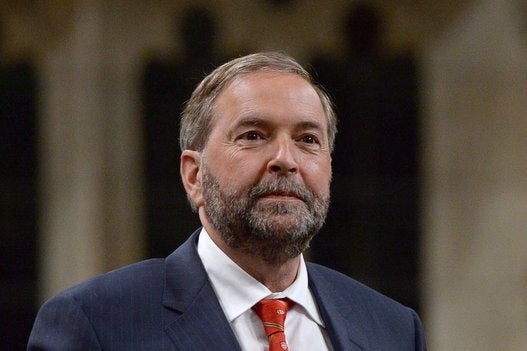 Politicians Who've Switched Allegiances