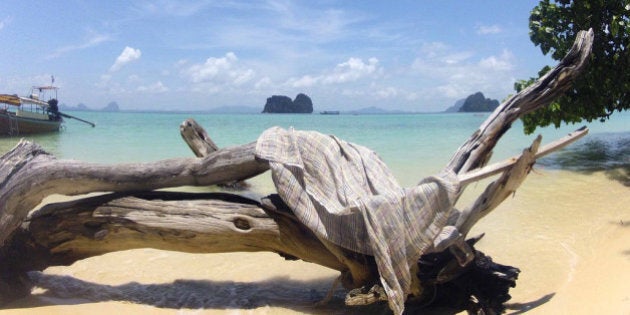 When it comes to finding the perfect beach towel, most people agree there's a long list of criteria you'll want to check off. Let's see, you'll want something soft (no one want to lie on burlap!), absorbent, compact, quick drying ... oh yeah, and stylish too.
In the slideshow below, we look at 18 lightweight, ultra-absorbent and quick-drying towels that are a must have when you're bound for the beach. From fine linens to plush cottons to microfibre, there's different styles and textures to suit all your summer needs.
Like most fabrics, good quality towels can range in cost, but don't be alarmed by high prices. According to Good Housekeeping, a good towel made from either cotton or short looped terrycloth can last multiple seasons.
And once you find your perfect towel, you can help extend its life by taking extra precaution while cleaning it. Removing sand can be tricky with most cotton towels, but soaking them in vinegar can help clear that up, according to Ebay. Vinegar breaks apart dried sand that gets stuck to damp towels and it's a natural anti-bacterial agent.
But the most important tip is remembering to dry your towel. If you've left a wet towel in a bag before, you already know how smelly it can get. Beach towels, like bath towels, trap moisture and develop mold when left wet. Save yourself the headache (and the stench) by thoroughly drying your towels in the sun before packing them up and they'll last you much longer.