Canada Post
Canada Post admits it made a big flub after recently issuing an Alberta stamp that featured the wrong image.
The image used to depict hoodoos in Dinosaur Provincial Park was, in fact, taken near the town of Drumheller, approximately 200 kilometres away.
Alberta's hoodoos are large rock columns formed by erosion, and are a popular attraction for tourists and photographers to the Badlands region.
Spokeswoman Anick Losier told Yahoo News that the stamps, which were issued last Friday to celebrate Canada's UNESCO World Heritage Sites, have been removed from mail orders and the Canada Post website and the stamps are currently being recalled.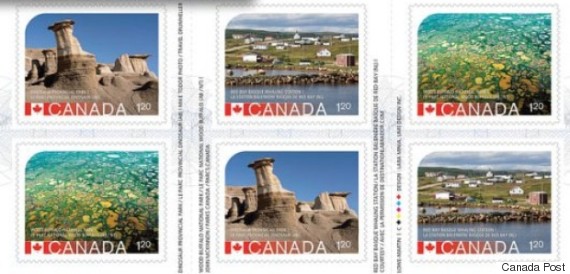 (Canada Post's original collection of stamps issued to celebrate Canada's UNESCO World Heritage Sites.)
"Somehow in the process we missed the piece that led to this unfortunate mistake," she said. "That part of the process we've reviewed and have fixed to make sure this doesn't happen again."
Drumheller Mayor Terry Yemen told the Calgary Herald be was disappointed by the postal service's mistake.
"I believe that using a picture from the town of Drumheller (while) honouring another area is disrespectful to both."
According to CTV News, a new stamp featuring a correct picture of the provincial park will be released at a later date.
Like Us On Facebook

Follow Us On Twitter

ALSO ON HUFFPOST:
7 Spectacular Alberta Road Trips