With its core business "eroding," Canada Post is proposing a new round of price hikes. But some customers are complaining they aren't getting good value for money as it is.
In a post to Reddit that has gone viral, an Ottawa-area man uploaded a picture of a package left unattended underneath a Canada Post community mailbox.
"Over the past six months, Canada Post has lost three packages for me, all of which it claims to have delivered. I think I discovered the reason why today," reads the title of the Reddit post.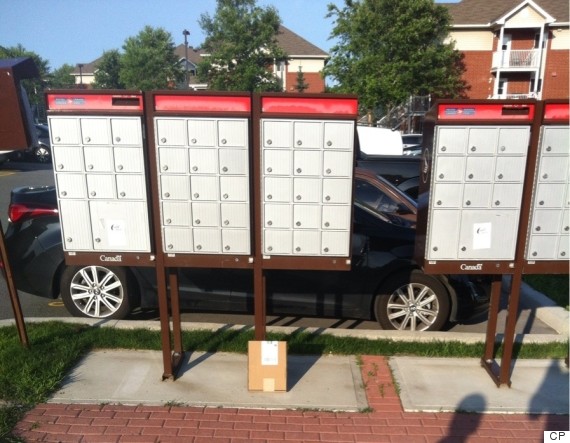 "I'm sure this (the courier being a lazy s---) has been the case for some time," wrote the Reddit user, identified by CBC as Robert Bruff.
Bruff said on Reddit he called Canada Post to complain on multiple occasions, but was told that the person doing the shipping had to file a complaint in order for an investigation to be opened. For a missing package that originated in the U.S., he was told that the U.S. Postal Service would have to launch an investigation, and ask Canada Post to do the same.
"I did speak to a person at my post office and she told me that they had been receiving complaints about mail delivery in the area every day," Bruff wrote.
A Canada Post spokesperson told CBC that a package left unattended outside of a mailbox is "not acceptable and not our process."
It's not the only allegation of neglect the postal service is facing this week. According to a story at Global News, residents of a southeast Calgary neighbourhood complained that all the mailboxes in a community mailbox were left open for hours on Wednesday.
"My neighbour sat out there and just guarded it … in 30 degree heat," resident Brenda Miller told Global.
Canada Post said it's investigating, and added that "whenever there's a delay [in closing mailboxes], there's usually a good reason for it."
Price Hikes On The Way As 'Core Business Erodes'
Meanwhile, Canada Post has proposed a price hike for domestic, international and registered mail. If approved, the price of mailing a standard letter will increase to $0.90 from the current $0.85, when stamps are bought in booklets. The price will remain $1.00 for individual stamps.
In a statement, Canada Post said declining mail volumes "continue to have a significant impact on [the corporation's] financial situation."
The postal service delivered 1.4 billion fewer domestic letters last year than it did at the peak in 2006.
"Some of the biggest declines have occurred in 2015, accelerating the erosion of Canada Post's core business," the statement said.
As part of efforts to transform itself in the digital age, Canada Post announced in 2013 it would end urban door-to-door delivery and switch to the community mailboxes already serving many suburban and rural areas.
The new community mailboxes have been the subject of litigation by communities that say they have not been properly consulted on the matter.
Earlier on HuffPost:
Canada Post Ends Urban Door-To-Door Delivery