Alberta Premier Rachel Notley met with Prime Minister Stephen Harper during the Calgary Stampede this week, and the pair donned traditional Stampede headgear for the cameras beforehand.
But something was off at their photo-op: Notley was wearing her Smithbilt hat backwards.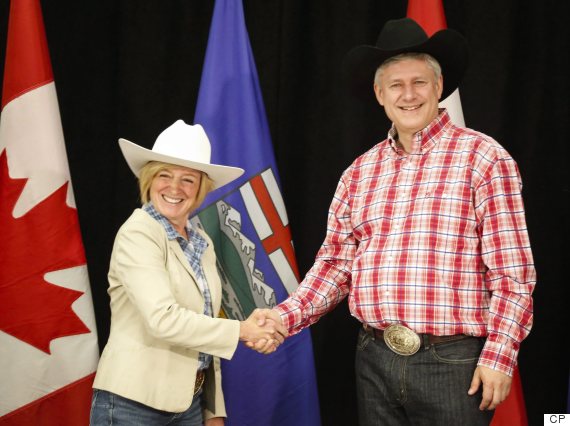 Some gave the premier a hard time for the gaffe on Twitter.
First time you wearing a cowboy hat @RachelNotley? Perhaps you shouldve asked @pmharper how to put it on right #ableg pic.twitter.com/qkd2xK7tNX

— Keean Bexte (@KeeanBexte) July 7, 2015
Notley's Hat is on backwards. The same direction the Province of #Alberta is heading. #abpoli #cdnpoli #spendp #ableg pic.twitter.com/BRXS2DaMpE

— Alberta SpeNDP (@ABSpeNDP) July 7, 2015
But another pointed out she wasn't the first to make a Stampede attire blunder. Harper was also criticized for wearing his hat backwards at the 2005 Stampede, the Edmonton Journal pointed out.

In a show of solidarity with one of Stephens earlier #Stampede blunders. Notley also wears her hat backwards.#cdnpoli pic.twitter.com/YpnrpNJJyY

— Conrad (@DesConrad) July 6, 2015
And others saw some symbolism in the hats...
White hat, black hat; looks pretty clear to me - http://t.co/FS51AiwyX5

— Tim Bray (@timbray) July 7, 2015
During their meeting Notley wore a white hat while Harper wore a black hat-no allegorical imagery there http://t.co/3WEZRH5sOs

— Jason Nishiyama (@evilscientistca) July 6, 2015
Notley received the Smithbilt hat after taking an oath and pledging to promote western hospitality "far and wide," which is a Stampede tradition, The Journal reported.
Rachel Notley takes the oath to get the white hat. #ableg pic.twitter.com/9QM54zO0sN

— Justin Giovannetti (@justinCgio) July 6, 2015
Smithbilt hat maker Ted Stovin told the newspaper that many hat wearers make the same mistake as Notley.
"Hats don't come with how-to instructions," he said.
Like Us On Facebook

Follow Us On Twitter


Also on HuffPost
Politicians' Stampede Fashion