Alanis Morissette has us dreaming about florals and pink suede jackets.
The 41-year-old Canadian singer-songwriter recently graced the cover of Live Happy magazine's August 2015 issue. With a full cover article and photo shoot on the inside, we took a look at some of the star's fresh summer looks.
In the magazine's spread, the "Jagged Little Pill" artist donned a floral lilac and green sleeveless blouse from Saks paired with distressed skinny jeans from Current/Elliott. She topped this look with a green ring from Kimberly McDonald, gold earrings and a gold necklace chain, and gold heels from Altuzarra.
Keeping her hair down in true summer waves with very minimal makeup, the Grammy Award-winner looked radiant throughout the shoot. On the cover of her story, Morissette donned our favourite look, a light pink suede jacket by Topshop paired with a "Thankful" tee from Good hYOUman.
To celebrate the re-release of "Jagged Little Pill," (which turns 20 this year!) the singer opened up about her secrets on how to stay mindful, motherhood and her personal experience writing an upcoming self-help book.
"I stay mindful when the schedule is hectic. For me mindfulness is about being present and being hyper-sensual. That means feeling the breeze on my skin," she tells the magazine. You can check out the article on Live Happy, including more pictures of her summer looks!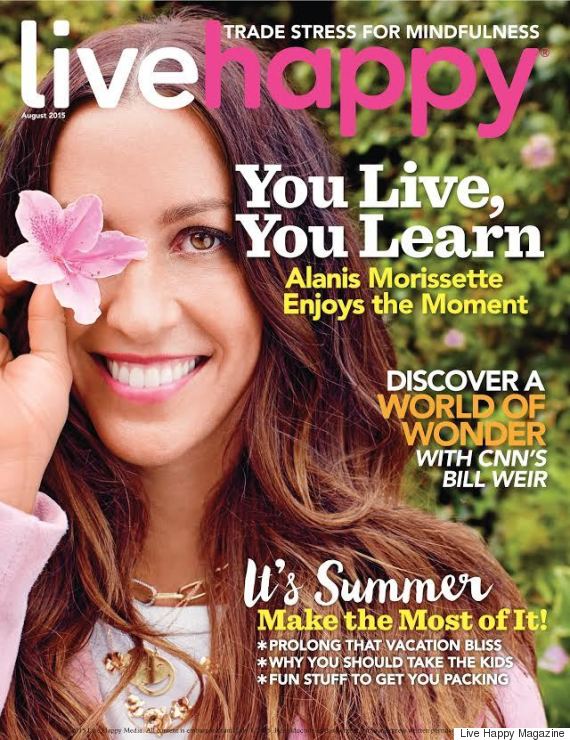 Jeff Lipsky for Live Happy
Follow Huffington Post Canada Style on Pinterest, Facebook and Twitter!
ALSO ON HUFFPOST:
Alanis Morissette Through The Years