A string of emails that appear to show a conservation officer defending his decision to refuse to kill two black bear cubs on Vancouver Island has been released by anonymous hackers purporting to be affiliated with the hacking collective Anonymous.
The redacted emails, which were released in an email claiming to come from Anonymous, were released to several media outlets on Friday morning.
Earlier this month, B.C. conservation officer Bryce Casavant, was suspended from duties for refusing to kill two black bear cubs, after their mother was destroyed for repeatedly raiding a Port Hardy freezer filled with meat and salmon.
Casavant and Port Hardy firefighters rescued the cubs from a tree and he believed they could be rehabilitated, so instead of killing them, he took them to a nearby veterinarian hospital.
They were later transferred to a wildlife rehabilitation centre, where they remain.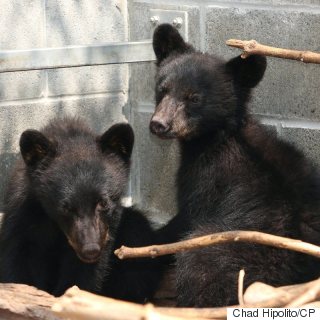 The suspension of Casavant sparked outrage on social media when the CBC story was retweeted by British comedian Ricky Gervais, with tens of thousands of people signing an online petition calling for the conservation officer to be reinstated.
No threat to humans
In the released emails, Casavant appears to disagree with an assessment that the bear cubs were habituated to feeding on human food and garbage, and cites a 2009 policy that bear cubs should be turned over to a veterinarian for assessment.
But his supervisor appears to tell him the policy is under revision, and orders Casavant to hand over the cubs to another officer so they can be killed.
"You are removed from the [Human Wildlife Conflict Report] effective immediately. Please arrange immediate transfer of those bears to CO [name redacted]," the supervisor is quoted as saying.
Casavant appears to continue to disagree, saying, "My primary mandate is public safety and the immediate threat has been removed (i.e. the sow). My duties as a law enforcement officer do not include the needless destruction of a baby animal that can be rehabilitated."
CBC News was able to contact Casavant's wife, who said neither she nor her husband would comment on the authenticity of the emails. He remains suspended with pay, his union has confirmed.
The province said the emails were not obtained from its system.
"The office of the chief information officer has investigated allegations that emails from the Ministry of Environment have been obtained by a hacker group and found no evidence that the government's email system was hacked," said the ministry said in an email.
Read the released emails here.
Also on HuffPost
Orphaned Black Bear Cubs, July 2015