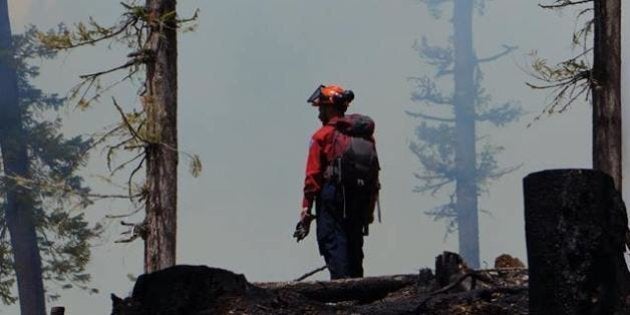 Laid-off tree fallers in B.C. who want to help combat the province's wildfires say they have been turned down, even though they have the right credentials.
Brad Isberg was laid off from his job as a tree faller a few weeks ago. Since then, he has been sitting idle, watching flames rip through a nearby forest from his living room in Sechelt, B.C.
"They're bringing fire crews in from Australia and Ontario and I am just shaking my head. Here we are, able bodies and skilled and we're sitting at home," said Isberg.
Isberg said he has the right certification to fight wildfires, but was told he had to sign up in January.
Keith McBryan is another faller in the same situation.
"It feels terrible — B.C. is burning up and loggers are totally environmentally conscious, and we are just watching our livelihood go up in smoke here," said McBryan.
Sig Kemmler, the president of Alternative Forest Operations, a contractor that hires firefighters for short periods of time, said provincial guidelines require people to sign up months in advance, to make sure everyone has the proper credentials.
"Like it or not, that's the pathway," said Kemmler.
However, he says the process may need to be revised if the fires around the province get worse.
On July 6, a 60 year-old tree faller was killed while fighting a forest fire near Sechelt.
CBC contacted the Ministry of Forests about the issue. Officials said they would look into it.