Ever wonder what makes a romance last? Or how people stay together despite what life throws at you? With It Takes Two, The Huffington Post Canada is talking to couples from across the country — young, old, married and otherwise — who have the answers to these questions.
Names: Kellie and Dave Ross
Ages: 54 (both)
City: Hillsburgh, Ont.
Occupations: Small business owners (we run a family telecommunications business)
The year you met: Initially in 1976; reconnected in 2006
How long have you been together: Nine years on July 22, 2015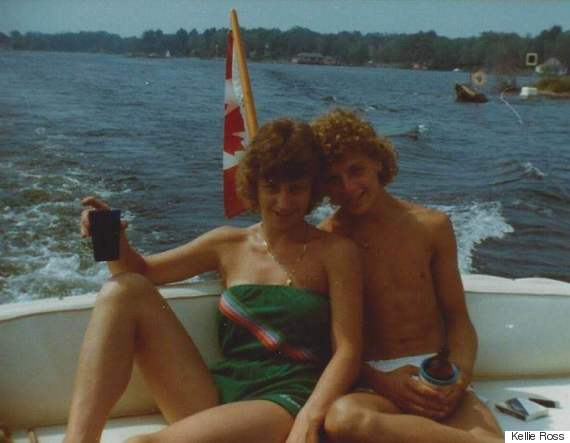 Kellie: My now-husband and I met in high school and it was love at first sight! Although we were madly in love and cared deeply for each other, things didn't quite work out the way we thought they would and we parted ways and each went on to marry others and have children — I had three, and he had one.
I left Canada and moved overseas and my first love remained in Canada and ran a thriving business.
Fast-forward 19 years and we reconnected through emails.... he was newly separated and I was in the throes of separation and about to move to the U.K. to be near my boys, who were in school there.
Two thousand emails later (neither of us were on Facebook at the time!), we made plans to see each other to see if the spark was still there.
He flew to Dubai, where we learned immediately that the spark was indeed still there and we spent the most romantic five days getting to know each other again and realizing that we didn't want to ever spend another minute apart. Six months after reconnecting, I returned to Canada to live and to revel in this renewed relationship.

Kellie: While living overseas in Dubai, I had experienced a grave illness, and after spending three months in hospital (including being airlifted to the U.K. and learning to walk again after five weeks in a coma), I vowed to live life to the fullest and never miss an opportunity that life presented me with again.
About eight months after I returned to Canada, we moved in together. In August of 2008, Dave proposed ... down on one knee, under a beautiful tree. It completely threw me off guard, as it was definitely not something that I expected at that moment (although I had been waiting for such a moment ever since my return!).
We planned our wedding to coincide with Christmas so that my children could attend.
Dave: Getting together was the biggest challenge; staying together was the easy part.

Kellie: We make it work by sticking at it through the rough parts. Every relationship has peaks and valleys, so learning to go with the flow through those times and talking through things helps. In the beginning it wasn't as easy, because we had both come from vastly different lives — mine spent living abroad and Dave's spent living near everything familiar to him. There were some rough patches to get over, but once we got past those, we settled into being a good team. We also strive to be a dynamic couple and to not fit into the mold that so many couples allow themselves to fall into.
Dave: What I think makes it work is respect. Understanding. Patience. Participation. True love.
Kellie: My favourite thing about Dave is that he's a very compassionate man. His love for animals and others is very endearing. He is an extremely thoughtful partner and always goes out of his way to do the little things that make a relationship so special, including making my dinner every night which is a huge plus for me!
Dave: Kellie is elegant, has a beautiful smile, is ambitious, seeks self-improvement and loves me to bits.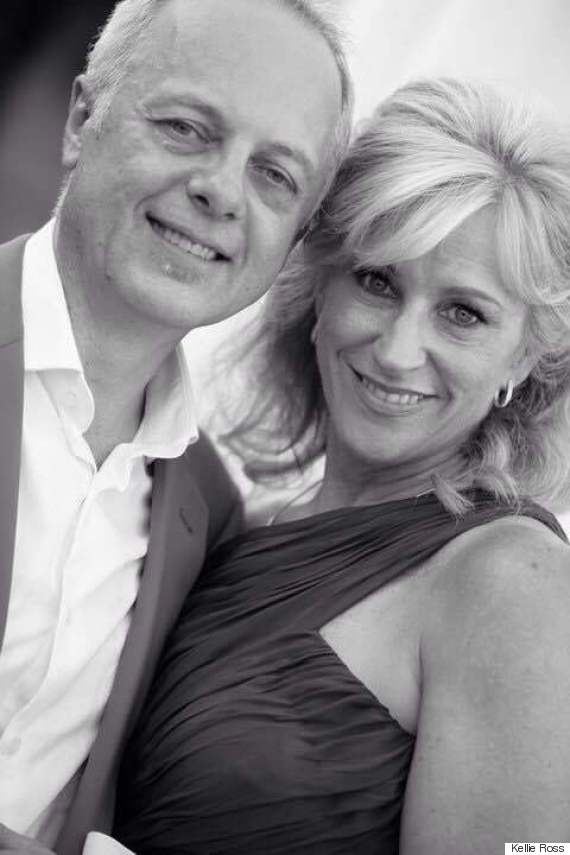 Kellie: We do little things for each other — we have a wooden heart that Dave bought on a trip to Anguilla; whichever one of us makes the bed, puts the heart on the other's pillow. There are always lots of hugs and notes for each other if we are going to be away. We continually strive to inject a little excitement into our lives — whether it's just hanging with friends or travelling or doing stuff around the house... we try to keep the monotony out of our relationship.
Dave: We like to plan dates and take weekend "naps."

Kellie: Find the good in your relationship — there has to be SOME good, otherwise you wouldn't be together! Keep building on that. The one constant for me is to remember that no matter how much I might dislike Dave, I always love him.
Dave: Don't take yourselves too seriously. Don't sweat the small stuff. Learn how to shut up, even while your ego is screaming.
Kellie: I think that people (myself included) go into a relationship and love the newness and the spontaneity of everything. When the newness and spontaneity wears off, people become disillusioned and unhappy. I believe if you stay focused on your long-term goals and what brought you together in the first place, you can embrace the different stages of 'love' and use them to enhance your journey together.
Dave: The difficulty involved in finding true love is near impossible and too many settle for lower grades on the way to experiencing, or hopefully experiencing, the life-changing passion when that true love finds us.
Do you have a love story you want to share? We want to hear it! Email us at canadaliving@huffingtonpost.com.
ALSO ON HUFFPOST
Real Weddings of the Week!