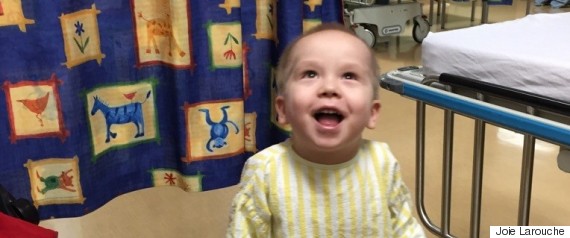 Three-year-old Odin Betz has had an open-heart surgery for every year he's been alive.
In 2012, he was born with a genetic condition called hetereotaxy syndrome. The left side of Odin's heart is missing, and its major arteries run straight, instead of in a normal "criss-cross" pattern — and that's just the start.
"His heart is basically one full chamber instead of four," his mom, Joie Larouche, told HuffPost B.C.
Born in Surrey, B.C., Odin has an identical twin brother, Griffen, who doesn't have the same health issues.
Larouche said the difference in the twins' development is hard to ignore.
"When we go out, I take a single stroller with me," she said. "[Griffen] is walking perfectly fine. For [Odin,] we would go in the park, and suddenly he'd be like 'Oh mommy, I need to stop. My heart is beating too fast. I can't do this.' And then he'll have a nap."
Odin underwent his first open-heart surgery at the B.C. Children's Hospital when he was seven months old — but there were complications, which required another procedure just nine days later.
Joie said the recovery period from Odin's surgery should have lasted two weeks, but because he had to go through it twice, it took him double the time to heal.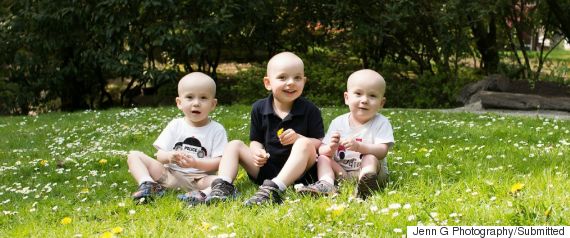 Twins Griffen, left, and Odin, right, with five-year-old brother Kingston, centre.
It cost $2,000 for one month's worth of Odin's post-op medication. Now, the family is getting ready to tackle the boy's medical costs all over again.
The pre-schooler is scheduled for his third open-heart surgery on July 22.
"It's scary. You have so many emotions — you're angry, you're sad, you're frustrated, you're happy, but you really just want your kid to make it out," Joie said.
"This is one of the toughest surgeries for heart kids to go through, and you never know what the outcome will be."
Last time, the family got help from Variety - The Children's Charity to cover Odin's medical costs, but Joie said she wants to leave that money for other struggling families.
"There was a few times where there was a lack of funding for Variety, so this time, I don't want to rely on them because I know there are more chances of families that need the help, compared to us," she said.
Instead, Joie is organizing a bottle drive to raise money for Odin's medication. For now, they're collecting donations at home, but a local recycling depot has also stepped in to help out.
People with refundable items can drop them off on Sunday July 19, 1-4 p.m. at Regional Recycling's Cloverdale location and mention the drive for Odin.
Joie said she just hopes that this will be the end of major surgeries for her son.
"As the years go by, it's getting better and better in medical science, so I'm hoping he'll be fine," she said. "He'll be OK."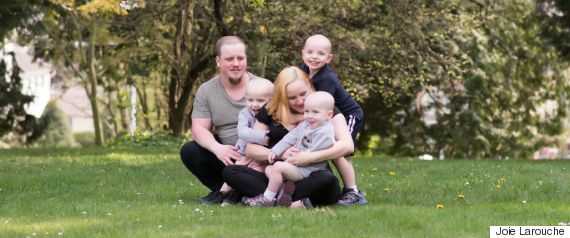 Odin sits on his mom's lap, surrounded by his dad, Keegan, and brothers.
Like Us On Facebook

Follow Us On Twitter

Follow Us On Instagram
ALSO ON HUFFPOST:
15 Children's Health Studies All Parents Should Read