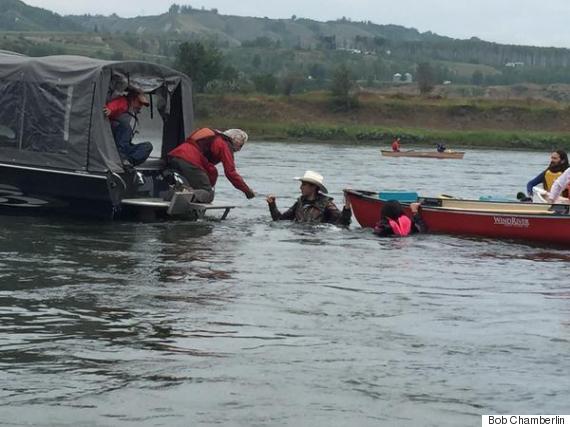 Environmentalist David Suzuki helps some swamped canoeists on the Peace River. (Photo courtesy Bob Chamberlin)
David Suzuki isn't just out to save the earth, he lends a hand in rescuing regular folks too.
The world-renowned Canadian environmentalist was part of a group on B.C.'s Peace River on Saturday protesting the imminent construction of the Site C dam hydro project.
A canoe capsized and dumped several paddlers in the cold waters, according to Faisal Moola, a forestry professor who also works with the David Suzuki Foundation.
Moola wrote on Facebook that Suzuki's boat "was first at the scene and he pulled them out of the water and to safety."
Other experienced paddlers nearby also helped in the rescue and in getting the canoe back upright.
"David then jumped into their swamped canoe (bailed out as much water as possible) and paddled, alone, several kilometres down the river to an area called Bear Flats, where he gave the keynote address to hundreds of people who had gathered to oppose the Site C dam," Moola continued.
"Keep in mind the guy is nearly 80 years old."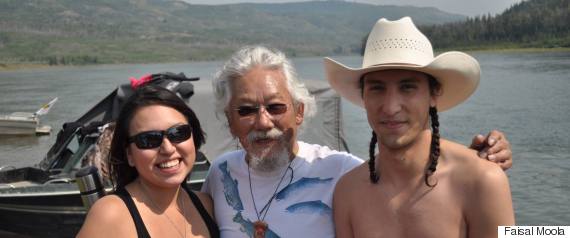 It doesn't appear anyone was injured and two of the paddlers who fell in the water later posed for a photo with the award-winning broadcaster and activist.
Suzuki, 79, told Moola that he capsized his own canoe on the Peace River and nearly drowned 40 years ago in the first fight against the Site C dam.
Grand Chief Stewart Phillip @UBCIC Pres & @BCAFN Regional Chief Shane Gottfriedson #paddlethepeace

#NoToSiteCDam pic.twitter.com/0OGauz5oIR

— Chief Bob Chamberlin (@ChiefBobbyc) July 11, 2015
The weekend's Paddle for the Peace water protest included canoes, kayaks, and other watercraft to bring attention to the Site C dam and the threat it poses to the Peace River Valley, said organizers.
The B.C. government is pushing ahead with construction of the $8.8-billion project, despite opposition from environmentalists, First Nations, and politicians.
The dam's environmental impact statement forecasts flooding of more than 5,550 hectares of land, of which at least 3,800 hectares is agricultural land. The project will also flood First Nations heritage sites and force up to 20 families — many life-long ranchers — to move.
Last spring's joint review panel report weighing the project found the dam would cause significant adverse effects on the environment and wildlife, as well as aboriginals, farmers and other users of the Peace River Valley.
But the benefits are clear and the alternatives, few, the panel appointed by the Canadian Environmental Assessment Authority said in its 471-page report.
The premier has said the dam will bring clean, reliable and affordable power to the province.
With files from The Canadian Press
Like Us On Facebook

Follow Us On Twitter

Follow Us On Instagram
RELATED ON HUFFPOST: