John Oliver has released a trenchant commentary on sports teams shaking down taxpayers for money to build stadiums.
It comes just as the Katz Group is set to officially reveal a new entertainment complex that includes an arena for the Edmonton Oilers.
In a video posted to YouTube on Sunday, the host of "Last Week Tonight" goes off on the practice of tapping tax dollars to build venues that look like they were designed by a "coked-up Willy Wonka."
He pointed out that U.S. taxpayers spent $12 billion on new athletic facilities between 2000 and 2010. And he wants to know why.
"Sports teams are successful businesses with wealthy owners, and yet they still get our help," Oliver said.
His monologue can't come too soon for fans of the Edmonton Oilers, who on Monday learned about the upcoming reveal of the city's "Ice District."
A video advertising the entertainment complex was uploaded to YouTube and later hidden ahead of a Monday announcement, Global News reported.
Here are some screengrabs from the video revealing the Ice District: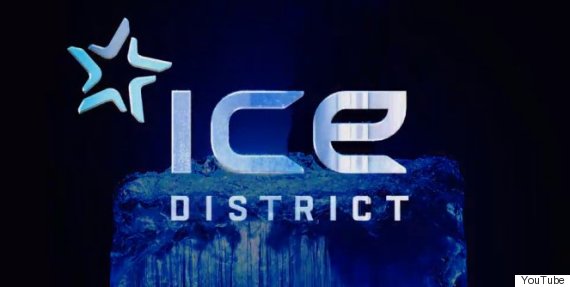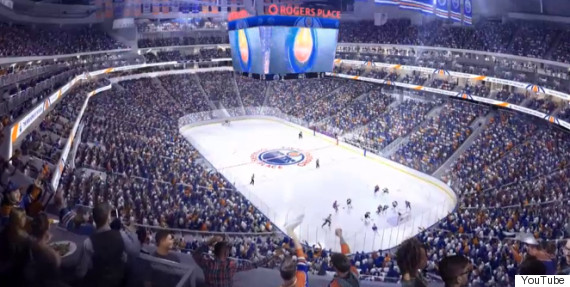 The $601-million district, advertised as the "largest mixed-use sports and entertainment development in Canada," is to have hotel rooms, movie theatres, and Rogers Place, a new arena, as its cornerstone.
It is set to open in 2016, replacing Rexall Place as the Oilers' home.
The arena is set to cost approximately $480 million, with taxpayers kicking in $219 million and the Oilers, who are owned by billionaire Daryl Katz, paying $143 million.
A further $125 million is set to come from a ticket tax.
The city will own Rogers Place and rent it to the Oilers, who will keep the money from ticket sales.
Richard Ivey School of Business professor Mike Moffatt called the arena deal one of the worst in Canadian history in The Globe and Mail in 2013, when it was passed by city council.
An online survey by then-Edmonton city councillor Kerry Diotte found that 54 per cent of respondents were not happy with the agreement.
Nevertheless, the reveal of the Ice District seems to be receiving a warmer response. Edmonton Journal columnist David Staples complimented the Katz Group for the new name (we had only previously known the name of the arena).
Social media users, meanwhile, noted the coincidence that Oliver's segment on stadiums came just as the Ice District was being unveiled.
Seems fitting on the day #yeg comes up with "#icedistrict" that John Oliver delves into the great stadium con. https://t.co/tSoP0yWO1N

— Scott Tougas (@stougas) July 13, 2015
Didn't our mayor also say, "It's not the best deal, but ..." #Oilers #IceDistrict #RogersPlace

July 13, 2015
I'm sure that #yeg media will ask tough questions at #yegarena "Ice District" unveiling today, just like John Oliver.

July 13, 2015
We can only wonder what Oliver would say about Daryl Katz and the Ice District.
Actually, we have a pretty good idea.
Like Us On Facebook

Follow Us On Twitter

ALSO ON HUFFPOST:
Edmonton Arena District Mega-Project