We were frightened enough to see Jared Leto's Joker in a grainy version of the "Suicide Squad" trailer from Comic-Con.
Now, we've seen him up close. And we're terrified.
The trailer for the Toronto-filmed superhero flick was released on YouTube Monday. It looks creepy and exciting, all at the same time.
The film, which is based on characters from a DC Comics series, tells the story of a group of villains who are recruited into a special missions force in exchange for reducing their time behind bars.
In addition to Leto, the film also stars Margot Robbie as Harley Quinn, Will Smith as Deadshot, Adam Beach as Slipknot, and Viola Davis as their handler Amanda Waller.
The picture, which is being helmed by "Fury" director David Ayer, has had a high-profile shoot in downtown Toronto.
Just two months ago, Batman was seen chasing the Joker down Yonge Street.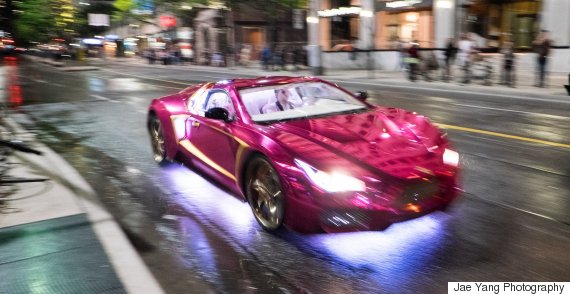 (Photo via Jae Yang Photography. Used with permission.)
Indeed, the intersection at Toronto's Yonge and Dundas Streets can be spotted in the "Suicide Squad" trailer at 2:03.
The superhero movie is set to be released in August 2016.
Like Us On Facebook

Follow Us On Twitter

Also on HuffPost