The Internet is a powerful thing. Over the weekend, Redditors banded together to throw an expectant mom an epic baby shower after no one RSVP'd to the event on Sunday.
Last week, the mom-to-be's best friend posted a request on Reddit asking for a few random acts of kindness. "Best friend is 36 weeks pregnant with a baby girl, her baby shower is Sunday," the friend wrote via her father-in-law's Reddit account godloki. "I just found out she's received 0 RSVPs (besides me) and 0 items on her registry (most expensive item $27!). It looks like it will be her, her mom and I at her baby shower..."
According to the original post, expectant mom Bailey's Walmart registry had zero items purchased as of Friday last week. The items ranged from 97 cent bottles to a $27 baby monitor. As a result, Redditors began pitching in to buy Bailey some much needed baby shower gifts.
"I hope Bailey isn't too too bummed if no one can come, but at the very least she knows that she has friends here. Best wishes to her and kudos to you for looking out for her!" one user wrote.
"If there's one thing I love... it's definitely clothes/accessories/trinkets for miniature humans," another said. "No one should have a lonely baby-shower! It would make me so happy to put a smile on your [daughter-in-law/best friend's] face. I'm excited to help you show her that people care."
Redditors Throw Epic Baby Shower
Thanks to overwhelming interest on Reddit, an Amazon registry list was created to make buying and sending gifts easier.
On Saturday night, user godloki posted an update saying that they had received 15 gifts and would be surprising Bailey with the next day. However, the following morning they were shocked to find loads more USPS boxes outside their front door!
Posting the photos on Imgur, user godloki wrote: "YOU ARE WHY THIS COMMUNITY ROCKS! AMAZINGLY GENEROUS PEOPLE, MAKING A DIFFERENCE IN PEOPLE'S LIVES!!"
The baby shower ended up being a huge success. Not only did a few aunts, uncles and cousins show up, but Bailey was blown away by the kindness of strangers.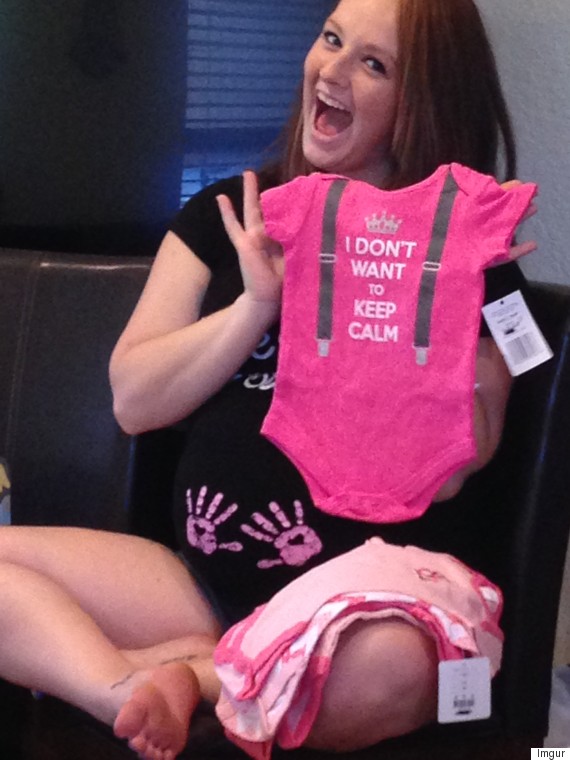 "When we opened the trunk, and threw back the tarp over all the diapers in the truck bed, her and her mom started crying," the original Redditor wrote. "With each bag of gifts & box of diapers, she would bounce up in down, half smiling, half crying.
"We told her that the gifts came from all over the world and read her some of the tags (Shout out to Australia, Belguim, Canada, Finland, Netherlands and the UK!). Bailey said, 'I've never felt so good in my life, my baby is going to be taken care of...'"
According to the post, Bailey's sister and cousin are also pregnant, so the entire family is incredibly grateful for everything Reddit has done.