Search for #Curvy on Instagram, and you'll receive suggestions for almost anything but.
The social network has blocked searches of the hashtag over concerns that people were using it to "share content that violates our guidelines around nudity," a spokesperson told Mashable.
"Please note that the block has nothing to do with the term 'curvy' itself."
You can still search for variations on the hashtag, such as #curvywomen, #curvymodel and #curvylady.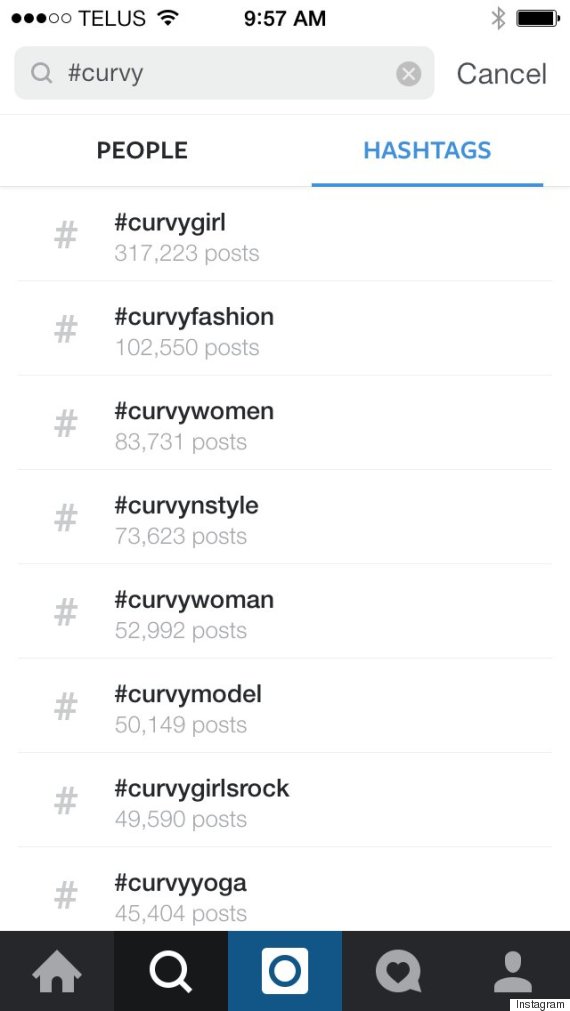 But Jenny McQuaile, director of the documentary "Straight/Curve," which talks about redefining beauty standards, called the ban "outrageous" in an op-ed for the U.K.'s Metro newspaper.
She said that blocking #curvy undoes "years and years of hard work" for diversity and inclusivity in the fashion industry and society.
"Women of all shapes and sizes should be allowed [to] embrace their #curves, and they should be allowed [to] celebrate being #curvy," she wrote.
"We are attaching shame to a word and a body shape, and that is wholly unacceptable."
McQuaile also noted that you can still search for #skinny, #thin and #fat on Instagram.
The site's decision has likewise disappointed a number of Twitter users.
More from the @curvamag cover story. Don't ban the #curvy @instagram. That's just childish. 😢 pic.twitter.com/j07w5wx1wD

— Nienke van der Peet (@NienkevdPeet) July 16, 2015
Errrr @instagram what the hell is your excuse for banning #curvy?! Like seriously how do you even explain that?! Cos I want an explanation.

— | Tattooed Tealady | (@TattooedTeaLady) July 16, 2015
I CANNOT BELIEVE @instagram HAVE REMOVED THE OPTION TO SEARCH THE WORD #CURVY. Is that not absolutely disgusting?

— Grace Victory (@GracieFrancesca) July 16, 2015
Can you believe Instagram banned #curvy? 😐😐😐 beyond disappointing! I uploaded a huge summer haul… https://t.co/JIoJu9YLlR

— Loey Lane (@Loeybug) July 15, 2015
Body acceptance activists have long used Instagram as a platform to raise awareness of shifting beauty standards.
Model Tess Holliday, for example, has used it to promote the #EffYourBeautyStandards campaign for body positivity.
But it has also been the subject of controversy when it comes to its policy around posting nude photos.
Instagram's guidelines on nudity read as follows:
"We know that there are times when people might want to share nude images that are artistic or creative in nature, but for a variety of reasons, we don't allow nudity on Instagram. This includes photos, videos, and some digitally-created content that show sexual intercourse, genitals, and close-ups of fully-nude buttocks. It also includes some photos of female nipples, but photos of post-mastectomy scarring and women actively breastfeeding are allowed. Nudity in photos of paintings and sculptures is OK, too."
Last year, comedian Chelsea Handler called out the social network for censoring a photo of herself riding a horse topless, in a spoof of Russian President Vladimir Putin.
"If a man posts a photo of his nipples, it's OK, but not a woman? Are we in 1825?" she wrote on the site.
Concerns around the censorship of women's breasts have helped to spawn the "Free the Nipple" movement, which has been supported on Instagram by celebrities including Miley Cyrus.
Follow Huffington Post Canada Style on Pinterest, Facebook and Twitter!
Also on HuffPost