After fasting, attending prayers and operating on a minimal amount of sleep for an entire month, Muslims deserve a celebration.
And while, we admit, we are sad to see the holy month of Ramadan come to an end, we are really, really (like really) happy to be able to eat again.
Muslims around the world are celebrating Eid-al-Fitr this weekend to mark the end of the month, and the beginning of the next month, Shawwal.
The festival is filled with food, presents and lots of hugs. Here are some of the highlights.
1. The glory of Eid all begins with an overwhelming feeling of accomplishment that you survived Ramadan

Give yourself a pat on the back.

2. And then, it gets even better when you realize you won't have to eat breakfast at 3 a.m. anymore

3. Stuffing your face with the first thing you see when you wake up. Purely magical.

4. Having your morning coffee for the first time in a month.

Feels. So. Good.

5. There's only one rule for Eid breakfast: Go big or go even bigger

6. Seeing your family and friends at Eid prayer is pretty exciting

7. Proceeding to hug your way through the mosque after Eid prayer

Three times each, of course.
8. When you're thirsty and you realize you can actually have water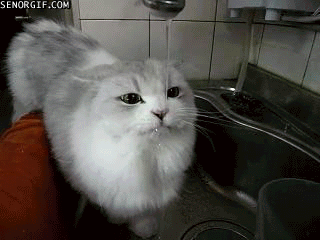 9. After prayer when your aunts and uncles hand out Eidi like:

10. Actually having the energy to get dressed up after a month

11. Smelling henna on your hands all day (and posing with it)

12. Oh, and did we mention food?

Eid Mubarak! Have a great day.

You deserve it.

Also on HuffPost