NOAH SEELAM/AFP/Getty Images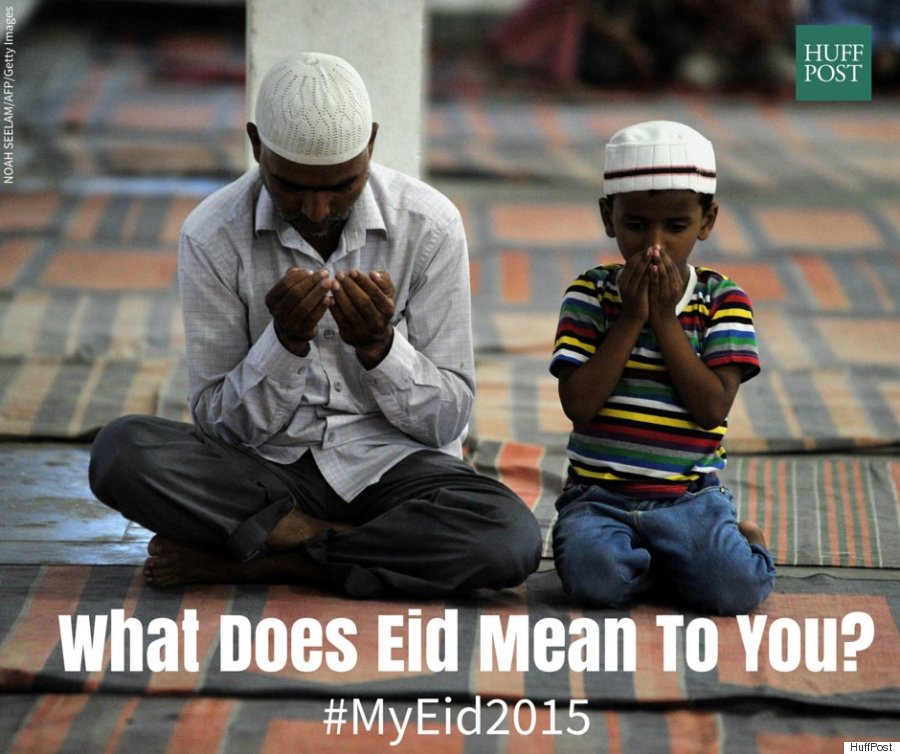 SUBSCRIBE AND FOLLOW LIVING
Get top stories and blog posts emailed to me each day. Newsletters may offer personalized content or advertisements. Learn more
Muslims are celebrating
Eid al-Fitr,
a holy day that comes at the end of Ramadan. Eid al-Fitr is a day of merriment and thanksgiving marked by gatherings with friends and family, preparing sweet delicacies, wearing new clothes, exchanging gifts and putting up lights.  Huffington Post editors around the world asked what Eid means to Muslims and non-Muslims alike using the hashtag #MyEid2015.  Scroll below to read readers' responses.
"It's a time for reflection and starting fresh. Its a time to rejoice with family and friends. But also remembering those who dont have enough. Its a time to count our blessings while also giving charity to those who dont only fast for the month, but they must fast for the whole year not by choice but bcoz they r not as blessed as others. Fasting teaches us empathy for those." - Umm Maria, Facebook "It gives us the opportunity to get closer to God in various recent works of charity to the poor and by doing prayers imposed and enacted." -Yasser EdenPark, Facebook  "A moment of happiness and joy shared with family and friends, Muslim or not." - Yahya Mohamed Sidi, Facebook  "It means a celebration with family and friends after one month fasting, trying to be a better person in all aspects (health, spiritual, manner)." -- mai_michan, Instagram   
"It's bittersweet! The end of Ramadaan is heartbreaking and anyone who follows this religion and experienced the beauty of the month will attest, but because it's a faith based on balance I understand that there is a time for all experiences bestowed upon Muslims and I welcome the closing of one day and the opening of another in the form of Eid-dul-Fitr." - lamz_gram, Instagram  "It is ime to tell Muslims we love and respect their peaceful religion, essential these days."  
-
Leo Chabot, Facebook "Sharing and solidarity. No distinctions between rich and poor. The reason we fast for 29 days is to feel the hunger that the poor are feeling every day. We invite non-Muslim friends and offer our mutton and chicken. We distribute gifts and sweets to children". - Couro Diop, Facebook
 Eid means protection of every single Muslim from evil things. Financial stability, acceptance of genuine dua by Allah. - @AdvocateReevnat, Twitter  When I worked in the East End it meant days of special food and lots of fun & happy people! - Lena Leitrim, Facebook  "Family, love and reflection on a beautiful month." -- moh_khan, Instagram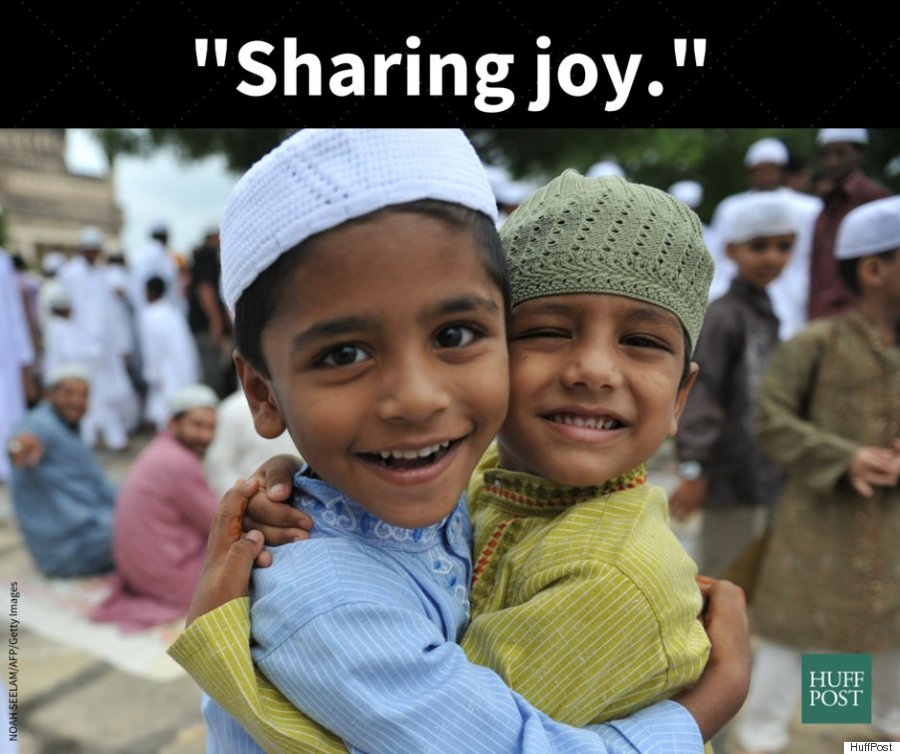 -- "Sharing joy." Kakoli Tahmina, Facebook "Celebration of victory, forgiveness with people surrounding, glorious food, happiness and a beautiful time to look and feel great." -- rc55, Instagram  A moment of sharing with my Muslim friends and neighbors! Enjoy your celebration, and thanks for your help and generosity throughout the year. I love living among you! - Claire Andco, Facebook  "It's the day of acceptance and self realization to tolerence - putting all differences aside and hugging each other with open hearts and broad mind, a day to realization and being thankful" — Muzammil Amer, Facebook  "Eid means reflecting on how to make myself a tad bit better for the ppl around me."
@dasghar, Twitter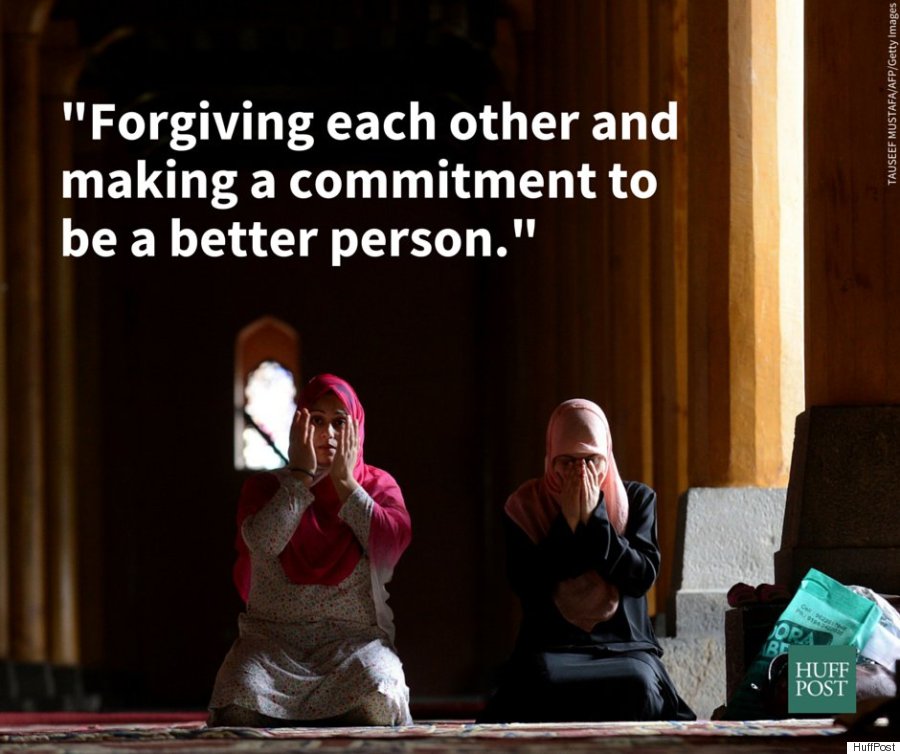 -- arifwidodo, Instagram "It's tradition to hug each other and saying "Eid Mubark," and when we return home, everyone is excited to eat special Eid food with family. Then the whole day guests, friends and family get together, and this makes this event beautiful." - Abram Jacob, Facebook "A feast to end the fasting month and a lovely time of love with the family." - bobbyanwar, Instagram "The beauty of Eid, its smiles, its beautiful faces, abundant food, abundant drinks, the gifts, the happiness. Eid is love all around, but it also reminds me that the sun has set on Ramadan, a bittersweet feeling between joy and melancholy...." - Sabrun Jameel, Facebook "Eid means finally making it to the end of the hardest month of the year with a smile on one's face." - Asad Dhunna, Twitter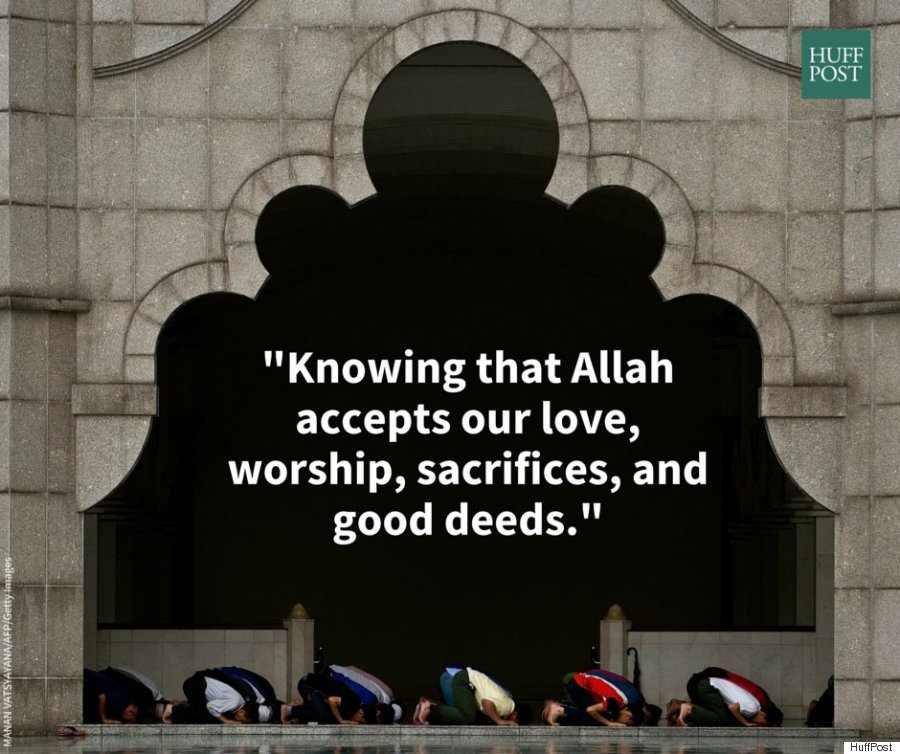 -- Lana Tuana Kizilarslan, Facebook "The end of a beautiful month." - fsr_, Instagram  "Eid mean charity, and share the happines. That was Ramadan lesson, starving to feel what the dispossessed feel" -  Issam Fahad, Facebook "Eid Al Fitr is the much deserved gift of feast for the ones who have fasted and demonstrated sincerity in the month of Ramadan. It's a celebration of communal harmony, where you're encouraged to visit relatives, forgive past differences and share gifts and fond memories together. It's a reminder to use your wealth for spending on people who may not be as fortunate with food, drinks and clothes. It's also a gentle reminder that as all good things conclude, so does Ramadan. Until next year, life's a journey to make an effort replicate the piety of Ramadan at all times." - Sheikh Rehmatullah, Facebook
"Celebrating/being grateful w/ my community and baking treats for all my non-Muslim friends&neighbors also a part of my community!" - @annamsays, Twitter
"It is the beginning of chapter for the heart, A purification for the soul and rejuvenation for the body." - Said Aden, Facebook 
---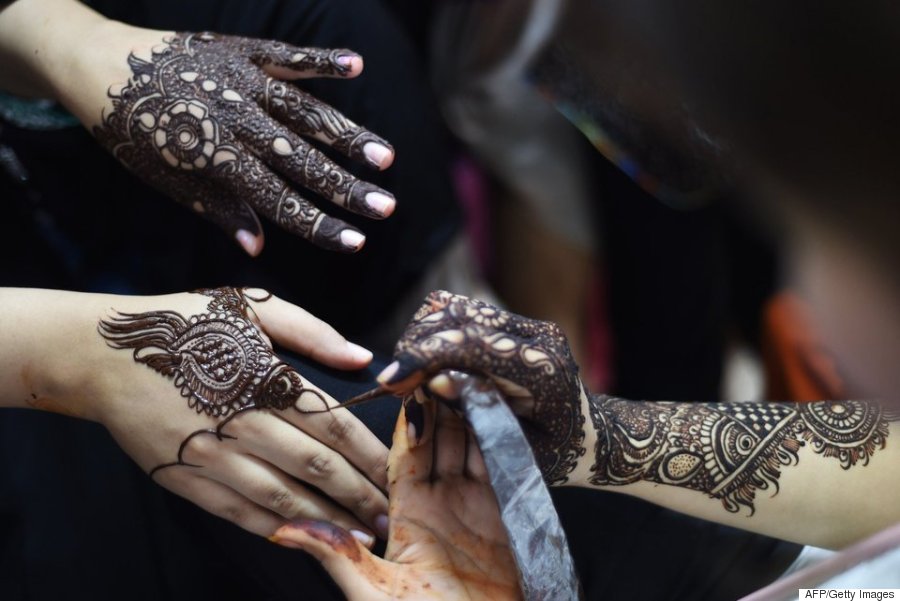 Pakistani beauticians apply henna designs to customers ahead of the Eid al-Fitr holiday which marks the end of Ramadan at a beauty salon in Karachi on July 16, 2015.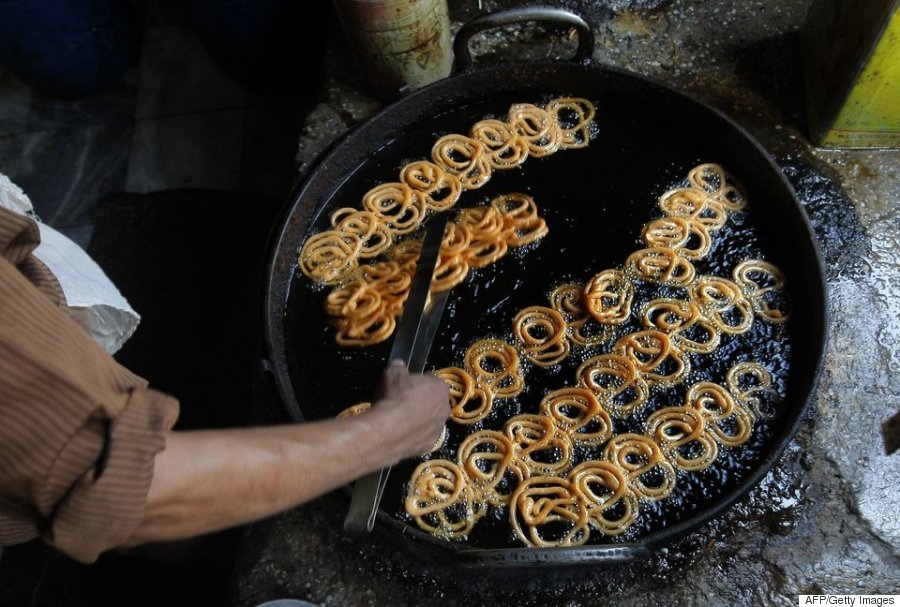 A Pakistani vendor makes traditional sweet 'jalabi', for customers to celebrate the upcoming Eid al-Fitr holiday to mark the end of the holy fasting month of Ramadan, Thursday, July 16, 2015, in Peshawar, Pakistan.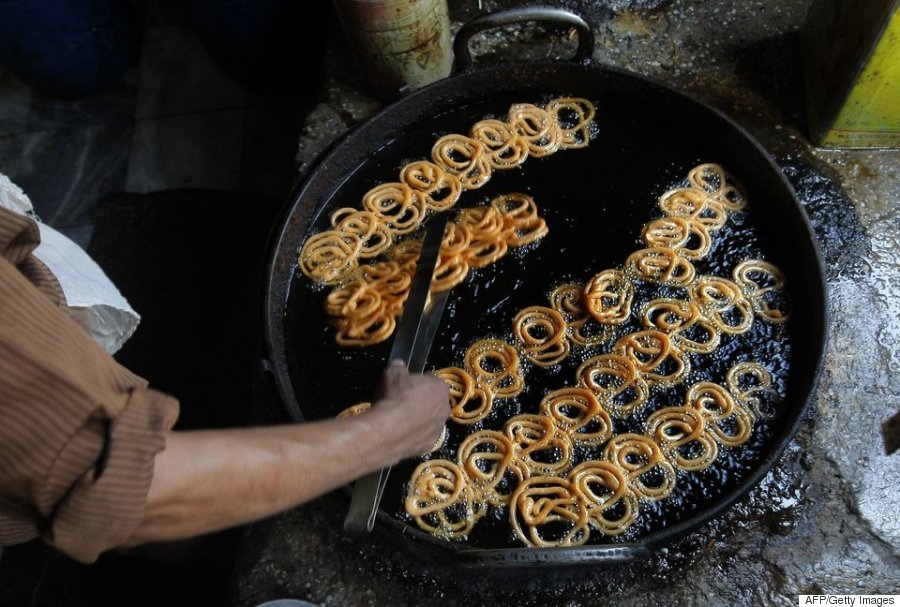 YOGYAKARTA, INDONESIA - JULY 16 : An Indonesian Muslim man breathes fire during a game of fire football, known as 'bola api', ahead of Eid Al-Fitr celebrations on July 16, 2015 in Yogyakarta, Indonesia.
---
"Eid is the key point of any year, I take stock of my actions, what I did good or less good, and pray to God to forgive me for the people that I've hurt and who've hurt themselves because of meeting me… Eid is primarily a celebration full of joy, smiles and pride." -
Na Mess
, Facebook  "I appreciate my Muslim brothers and sisters...many of you have gone out of your way this holy month to give to others who don't share your religion or customs...thank you from the bottom of my heart." - Carmen Vickery, Facebook
"Ramadan is a month where we fast to feel the hunger of the poor, pray for forgiveness, and at the end we celebrate god's generosity upon us where we learn how to give and be thankful for what we have. Eid mubarak to all" - Jaafar Mistrah, Facebook
"Eid is about family, putting aside our differences and enjoying a nice meal at the same table" - @LittleGreyDress, Twitter  "The opportunity for forgiveness and reconciliation among those who have disagreed or had conflicts. It's a celebration where families and friends visit and exchange best wishes and eat delicious cakes." -  
Ahcène Boughlita
, Facebook
 "When every wrong turn is forgiven if you apologize. Everything is purified from then on." -- attasita, Instagram  "A moment of peace and mutual forgiveness. To please the poor and particularly offer gifts to children. For peace on earth. Aminnne ya rabih" - Macoura Ndiayet, Facebook "It means being happy that I was able to fast the whole month of Ramadan and waking up to the early Eid prayers." -- @Nora_Adlouni, Twitter  "Eid is about appreciating family and little thing such as clothing, shelter, heat that keeps us warm during winter and air conditioning that keeps us cool during the summer. Transportation is important as well how would we travel and get to work if we had no cars or trains. At last food!. There's people who goes on with their day with out food due to the simple fact some can not afford it. Peace."-- pacheco.o, Instagram  "Eid ul Fitr means giving to the needy and poor, and celebrating this beautiful act we do for the sake of Allah almighty." - Umar Iqbal, Facebook
 "Eid Al Fitr is a sense of generosity and gratitude colours these festivities. Although charity and good deeds are always important in Islam, they have special significance at the end of Ramadan. As the month draws to a close, Muslims are obligated to share their blessings by feeding the poor and making contributions to mosques." - Ni Aodha Maire Violet, Facebook  "Eid is about celebrating 29 days of fasting and celebrating with friends and family! And praying for a peaceful year!" -- mahinerizviahmad, Instagram "Having a wonderful time with my family, becoming closer to God, and appreciating what I have." - @HafsaHaley, Twitter "It means my wonderful and beautiful best friend hosts the most wonderful meal in celebration of love and friendship. Sadly I miss the celebrations this year because I have a new edition to the family to look after. Have an amazing Eid to my many wonderful Muslim friends and family," Carrie Wilson, Facebook