Environment Canada quietly changed the name of its Facebook page earlier this week — scrubbing the name of the actual federal department from its profile.
As of Tuesday, "Environment Canada" is now known as "Conserve, Restore, and Connect with Nature" on the social network. The rebrand was made to both the department's English and French pages.
The page is still listed as a "government organization."
Here's how the new page looks like: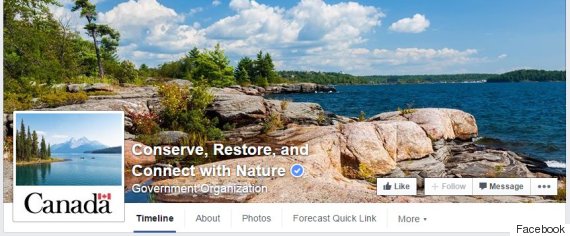 It's a semantic shift that isn't sitting well with some followers of the page.
"In all honesty, this looks a little silly. Leave it formally as Environment Canada. it looks more professional," wrote Facebook user Dylan Adams.
"This feels like election propaganda," said Laura Krohn.
The NDP's environment critic reacted to the change by calling the decision "absurd."
"The removal of the word 'environment from Environment Canada's Facebook page is at best confusing, but it's also a pretty sad symbol of how the Conservatives have systematically dismantled environmental protections in Canada," NDP MP Megan Leslie told Metro News.
The Huffington Post Canada asked the department why the pages' names were changed. Here's their explanation:
Environment Canada's Facebook page is changing names to reflect a broader theme-based approach that is aligned with the overall Government of Canada web renewal initiative. The goal of the Web Renewal Initiative is to consolidate 1,500 departmental websites into one website by December 31, 2016.

On December 18, 2013, the Government of Canada launched Canada.ca, the first step to ensuring that our online presence puts the needs of Canadians first.

Environment Canada is a theme-lead department, responsible for the Environment And Natural Resources theme on canada.ca.

The changes to Facebook are reflective of a theme approach rather than a departmental approach. They comply with the Federal Identity Program.

Environment Canada will continue to publish departmental content on its Facebook page; however, it will be working more closely with other Government of Canada Environment and Natural Resources theme partners, such the Department of Fisheries and Oceans and Agriculture and Agri-Food Canada, to include additional content on its Facebook page.

Environment Canada will also be working with other theme leads to promote content where appropriate.
Also on HuffPost:
14 Places To Fall In Love With Canada