You may want new siblings after seeing maid of honours Kelsey And Maddie Hallerman's epic performance.
The California sisters performed a hilarious wedding toast in June for their sister Caitlin's wedding at the West Shore Cafe and Inn in Lake Tahoe. The video, which has now gone viral, shows both sisters jamming out to the likes of The Jackson 5, Michael Jackson and the Backstreet Boys — with their own lyrics of course.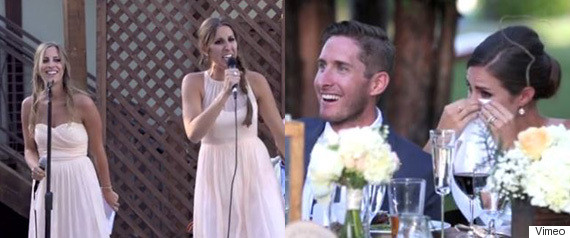 In five minutes, the sisters go through Caitlin's childhood, how she met her husband John and of course, how upset they are to let their sister go. Seriously, we're not sure if this can be topped!
Watch the full video from Chair7 Films here:
Greatest wedding toast of all time! from Chair7 Films on Vimeo.
ALSO ON HUFFPOST:
Stress-Free Wedding Toast Tips