Conservatives evidently enjoy jabbing at Justin Trudeau so much that the party's revamped website mocks the Liberal leader, even when a page doesn't load.
A few people took to Twitter over the weekend to point out the 404 page on the site — essentially an error message letting users know a link is broken or a page can't be found — hammers home the party's central message about Trudeau.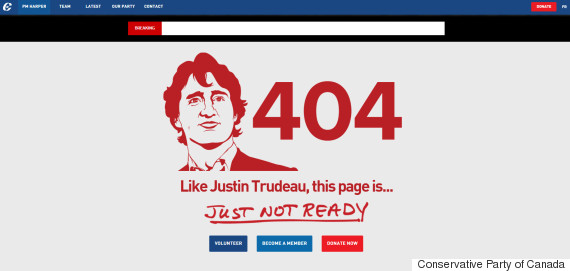 Early reaction to the discovery has been mixed, with some finding it funny and others grumbling about the joke. Someone even suggested it fits a larger Tory theme of blaming the Liberals when things go wrong.
Tories lauded their redesigned website in a fundraising email Friday, urging supporters to donate so the party could "more clearly explain the choice between the proven leadership of Prime Minister Harper and the high tax, high debt plans of the Liberals and NDP."
While the party's main page features a banner proclaiming "JUSTIN TRUDEAU IS JUST NOT READY," there's no mention of NDP Leader Thomas Mulcair.
Tories have consistently blasted Trudeau since he took over as Liberal leader in 2013, but have also begun to ramp up the rhetoric against Mulcair in recent weeks.
A number of summer polls suggest Mulcair may pose the biggest threat to Stephen Harper's team this fall.
Late last month, Tories released a graphic mocking Mulcair for stumbling on a question about Canada's corporate tax rates during a CBC radio interview. It marked the first time in months the party's social media accounts made any mention of Mulcair.
Two weeks ago, Tories shared another graphic slamming NDP MP Niki Ashton for her seemingly celebratory tweet after Greece's referendum.
The party also sent out a fundraising email warning that Mulcair's team would bring about "the same high tax, high debt policies that created the type of chaos we see in Greece today." The email was deemed significant because of the two words it did not include: Justin Trudeau.
However, when it comes to advertising, Tories remain focused squarely on the red team.
A controversial ad released online in late June used images and music from ISIS propaganda videos to criticize the Trudeau's opposition to Canada's combat role in Iraq and Syria. The spot made no mention of Mulcair, despite the fact that his party also voted against the mission.
With previous files
ALSO ON HUFFPOST:
Photo gallery

Not-So-Flattering Portraits Of Harper

See Gallery