The chain, which has locations across the country, is mostly known for their BBQ-style ribs, steaks and big fat burgers. Of course, indulging in a sirloin steak or wings from time to time is fine, but if Montana's is always your go-to, there are ways you can cut back on calories, sodium and fats.
One thing we will note about Montana's is the ability to play with the menu. With such a large menu — they even have a specific summer BBQ menu — you are able to choose your own sides and make smaller dishes more filling. But with so many options, the calories do add up. If you are looking for your favourite meal on the site's nutrition page, you should note most entries do not include sides or dressings.
And if you really just want that large plate of carbs and sodium, go for it — at least, part of it.
"If there's something that is calling to your cravings, go ahead and indulge in a favourite but only eat half. Ask for a takeout container right away or move half to your side plate," says Vancouver-based registered dietitian Nicole Fetterly.
This week our dietitians picked everything from rice dishes (although they would suggest switching out the rice for more veggies), salads and even steak. Check out the slideshow below and let us know, what do you order at Montana's?
In our series The Dietitian Dish, we ask Canadian dietitians what they would recommend as breakfast, lunch or dinner options at specific fast food and chain restaurants in the country. Please note, none of the dietitians below are associated with the restaurants we choose, and the restaurants are not paying us to dissect their food. Which restaurant would you like to see us tackle next? Shoot us an email at CanadaLiving@huffingtonpost.com or let us know in the comments below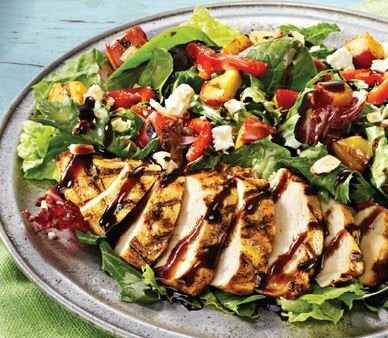 What Dietitians Would Eat At Montana's