Organizers at the Icon Awards in Scotland are currently under fire for choosing to "decorate" their promo models with black paint.
The event, which rewards excellence in the LGBT community, took place earlier this month and featured "blacked-up" models for attendees to pose for pictures with.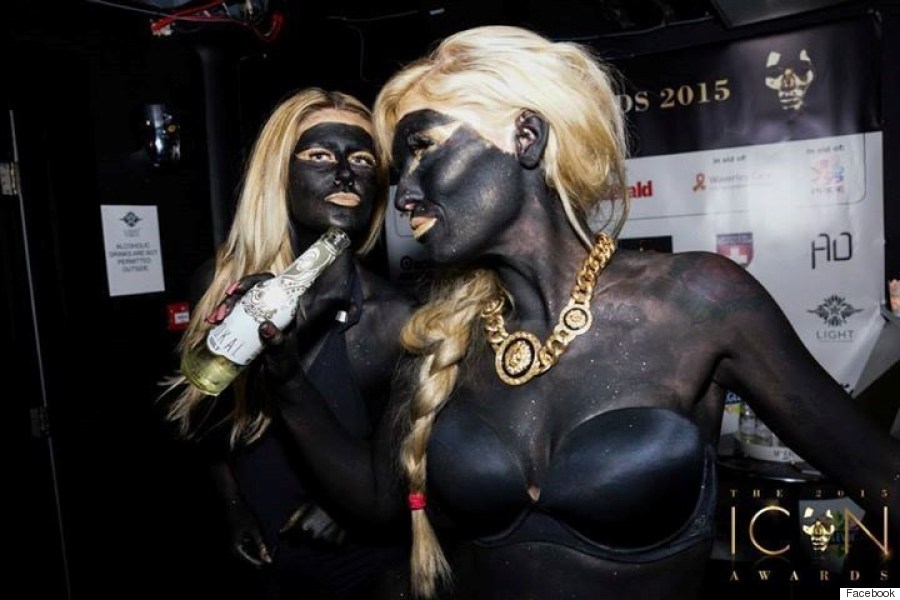 Members of the Edinburg University Students' Association (EUSA)'s Black and Minority Ethnic Liberation Group immediately spoke out on the organizers' choice to use use blackface on models, calling the "despicable" practice "incredibly damaging."
They said in a statement:
"We were recently made aware that the Icon Awards – a Glasgow-based awards ceremony for the LGBT+ community* – have been using models in blackface to promote the event, including at last month's Edinburgh Pride. The use of this despicable practice is incredibly damaging and actively perpetuates the oppression of Black communities. In this context, it is particularly harmful to those who identify as both Black and LGBT+, for whom this incident is a reminder that they are not fully accepted, even within the LGBT+ community."
In response, the Icon Awards organizers gave an official response on their Facebook page, claiming they were "saddened" to hear their event was "seen by some as negative," and apologized to anyone who had taken offense.
"We had no derogatory or negative intention with the models in question, and the gold and black body art was solely used to symbolise luxury not colour or creed. The models were used as statuesque figures, with the addition of gold males at the launch to show a transition that would later see them become golden figures, ICONS at later events, an artistic impression with no harmful meaning at its helm," the statement read.

But this wasn't enough for the EUSA, who were quick to respond, rejecting the Icon Awards' statement and calling on the sponsors of the event to withdraw their support until a "full apology and removal of all blackface from promotional materials" were met.
.@andrewchristian Do you support @theiconawards' use of #blackface to promote their event? https://t.co/X9Ji1qgji7 pic.twitter.com/wZdhqI6Qn2

— Liberation at EUSA (@EUSALiberation) July 17, 2015
One of the event's sponsors, Andrew Christian, designer of an American underwear company, withdrew from the awards following the backlash.
"When we saw the pictures, we realized that was not something we would like to support and we are not going to contribute in the future," he said, adding the company would not be providing its goods at October's ceremony.
The Icon Awards has since issued a second apology, and have now invited EUSA to a meeting to discuss the consequences of their actions.
And while the organizers say the "use of 'blackface' did not come to mind when we were using those models," we can't help but call BS. Considering the backlash blackface has gotten in the past, shouldn't they have known better?
As Styleite puts it, "Hopefully it serves to make the Icon Awards a more diverse and inclusive event next time around, and a reminder that anything resembling blackface is a thing you should not do ever."
Follow Huffington Post Canada Style on Pinterest, Facebook and Twitter!