The Pemberton Music Festival is a massive party in B.C.'s Coast Mountains — a party that also apparently leaves one massive, stinking mess. 
As the four-day music festival came to a close Sunday, the campgrounds in the Pemberton Valley needed a serious clean-up. A friend of festivalgoer Keith Harasymiw captured the resulting mess on camera, and Harasymiw decided to post the photo to Facebook.
Great job on picking up after yourselves at Pembyfest. Glad to see how much you all love your gorgeous BC.#Pembyfest #disgracefulmess

Posted by Keith Harasymiw on Tuesday, July 21, 2015
"Great job on picking up after yourselves at Pembyfest," he wrote in the caption. "Glad to see how much you all love your gorgeous BC."
The photo features a mountain pasture littered with abandoned tents, camping chairs, coolers, a still-inflated mattress, and a generous spread of empty plastic water bottles. 
"This is how fires start. Just people having fun with no regards to nature and its surroundings," Harasymiw commented on his photo, which has been shared more than 18,000 times. The comment section is filled with similar criticisms.
"I picked up a few new items on the way out, but overall super grossed out, and appalled at people to leave such a mess," Zoe Heather wrote on Facebook.
'The bags are overflowing every night'
More than 115,000 people attended the Pemberton Music Festival from July 16 to 19. It showcased musical acts like The Black Keys, Ludacris, and Missy Elliot. Festivalgoers can camp about a 15-minute walk from the festival site.
Approximately 200 volunteers and 50 sanitation workers teamed up to clean up the sprawling mess, according to Metro Canada.
"It is insane, absolutely insane. The bags are overflowing every night. It's kind of hard to keep on top of things," Daragh Herron, a sanitation worker, told Metro Canada.
By Tuesday afternoon, the effort appears to be paying off, as a festival representative sent CBC News this photo of the day's clean-up along with a statement: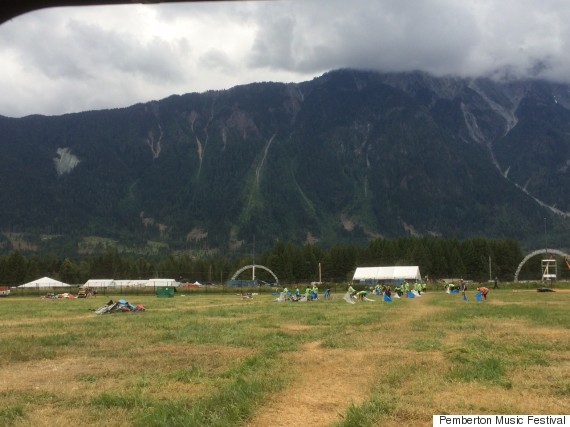 "What makes Pemberton Music Festival such a special event is our majestic site in the Pemberton Valley.  It is certainly not in our best interest to avoid removing trash and debris continually and expediently before, during and after the festival," said the statement.
"Major active cleaning efforts will continue zone-by-zone until we have completed our load-out from the site."
The statement also says that festivalgoers had until Monday at 2 p.m. to clean up their campground and leave, but "many of them chose to leave behind personal belongings rather than pack them out."
The village of Pemberton has a nearby recycling station and bottle depot. The festival wrote in a frequently asked questions section that recycling bins were placed across the festival site, with roving trash pick up and a dumping site.
"I understand they hire people to clean up after festivals, but this is still ridiculous and it's what cancels events like this in the future," Harasymiw later wrote. He also posted another photo to Facebook. 
Regardless of the waste, many visitors enjoyed the festival as evidenced by posts under the hashtag #pembyfest. 
The Pemberton Music Festival has already begun selling tickets for next year.
Also on HuffPost
Pemberton Music Festival 2014