Another day, another Target controversy.
The mass retailer is under fire, once again, for one of its slogan tees, which several people have deemed "sexist" and "demeaning."
The T-shirt in question? The "Strand Trophy Wife Graphic Tee Black" which is sold in the women's juniors section and features the word 'TROPHY' written across the chest.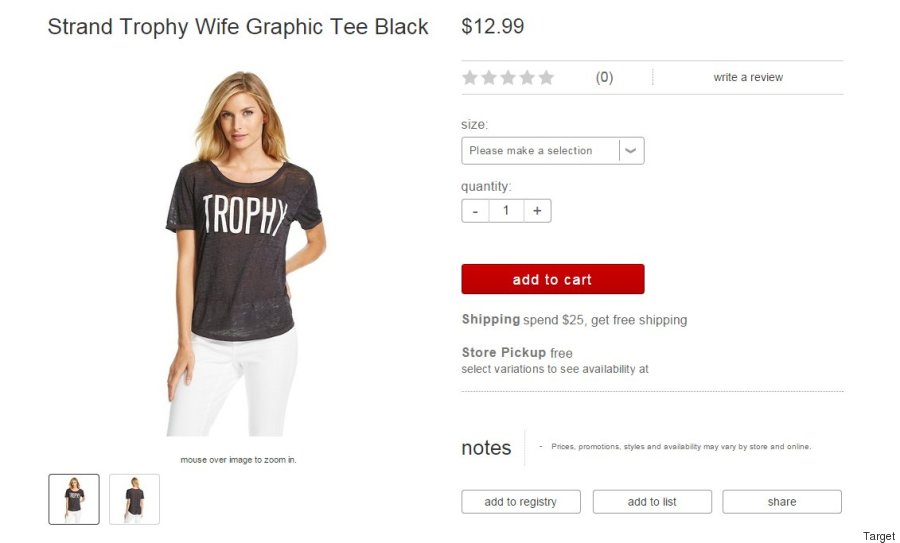 Angry customers have taken to Twitter to condemn the offensive tee, many claiming the shirt perpetuates rape culture by designating women as objects to be won.
@Target under what circumstances should any human being wear a T-shirt that indicates that they are a "trophy" pic.twitter.com/NXIrg8wbvW

— Ashleigh Kanengeiser (@AshleighReneee) June 14, 2015
For a company that promotes equal rights, you would expect @Target to refuse to sell a shirt that says "trophy" to young women.

— Sarah Grace |-/ (@MeetingSarah) May 25, 2015
The fact @Target has a a bridal shirt that says "Trophy" on it AND in the juniors section sickens me. How can that seem like a good idea?

— Katie (@comicsansislife) June 7, 2015
A Change.org petition has also been launched, asking the retailer to remove the item.
It reads:
"It wasn't long ago that Target was in hot water for showing sexism and gender bias in their clothing departments. It seems their prior offense taught them nothing about how corporate responsibility begins within their own stores, because last week I was appalled after walking into my local Target to find this "TROPHY" shirt proudly displayed in the junior girls department. I wish I could say this was a mistake- that it was overlooked by someone along the way, but the truth is that dozens of people approved this shirt before it hit store shelves, and THAT is a problem. The fact that no one at Target had the judgment to see this as demeaning and objectifying shows their ignorance to their own female market."
However, Target seems to think differently. In a statement given to USA Today, Target rep Molly Snyder wrote:
"It is never our intention to offend anyone and we always appreciate receiving feedback from our guests. The shirt you're describing is part of a collection of engagement and wedding shirts that are available in our women's and plus size departments. The collection also included shirts that say 'Team Bride,' 'Mrs.' and 'Bride.' These shirts are intended as a fun wink and we have received an overwhelmingly positive response from our guests."
Follow Huffington Post Canada Style on Pinterest, Facebook and Twitter!
Also on HuffPost
Fashion Controversies Of 2014