We fell in love with these newlyweds after a video of the groom, Frank Gregoire, singing popular Bollywood song "Tum Hi Ho," to his wife, Simran Malhotra, went viral.
Now, after receiving support from social media users around the world, the Canadian couple have decided to launch their own campaign, challenging people to express their own gestures of love.
"In our everyday work, we meet people in every kind of situation. Frank is a critical care doctor and I am a Palliative Care/Hospice doctor [end of life care]. This means we not only help treat people, but we also care for people as they transition to the end of their lives," Malhotra said in a press release. "In the face of death, we've learned to respect love when it is around."
Keeping this in mind, the couple teamed up with Canadian-based platform Just Doing It, which specializes in sharing positive messages on social media, to set a challenge called #ShowYourLove.
By recording a video or snapping a selfie with the hashtag (full instructions are in the video above), you too can send a small gesture to someone you love in your life — whether that's a partner, your family members or even someone who works at your favourite restaurant.
"Our mission is to remind everyone that it's the little things in life that are cherished most and let's not be shy to express our love while we still have a chance," Malhotra says.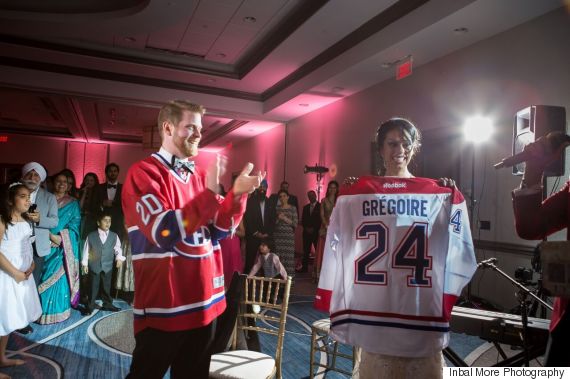 Of course, taking six weeks to learn and memorize a song in Hindi was Gregoire's gesture. In return, Malhotra had custom Montreal Canadiens hockey jerseys made to demonstrate a truce between their Toronto-Montreal rivalry.
Join in by tagging your photo or video with the #ShowYourLove campaign and let's all spread a little bit of love this week!
Also on HuffPost