MECKY via Getty Images
There was supposed to be a silver lining to the oil price collapse that has devastated Western Canada's economy. Lower energy prices would lead to lower gas prices, which would put more money in consumers' pockets and help Canada's economy avoid a recession.
But if you're a regular driver, you've likely noticed that gas prices have been creeping up, even though oil prices have been falling again in recent weeks.
"The cost of driving for Canadian households and businesses has quietly retraced about two-thirds of last year's plunge," Bank of Montreal economist Sal Guatieri wrote in a client note Tuesday.
Gautieri noted gas prices have risen by about 30 cents a litre since January, and estimates that has reduced consumer spending power by one per cent.
That "partly explains why retail volumes have gone virtually nowhere since last fall and the economy has headed south," Guatieri said. He described it as a "lose-lose situation."
Crude closed around $50 U.S. a barrel on Tuesday, down more than half from $105 U.S. per barrel a year ago. The average gas price in Canada this week is hovering around 119 cents per litre, according to GasBuddy.com, down only about 8 per cent from an average of 129 cents per litre a year ago.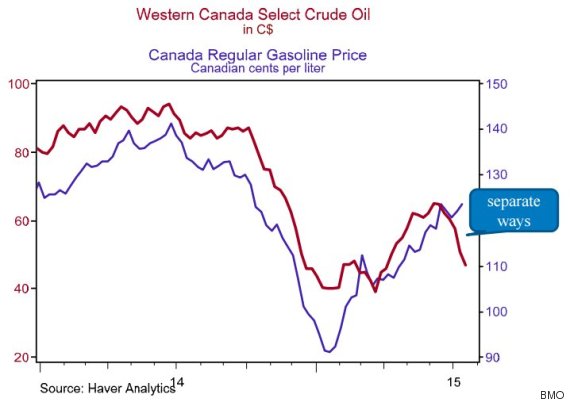 This chart from BMO shows oil and gas prices diverging in recent weeks, with Canadian gas prices rising even as oil falls.
Part of the problem is the plunging loonie, which touched a six-year low below 77 cents U.S. this week. A weaker Canadian dollar makes it more expensive to buy refined oil on global markets.
And according to analysts, the decline in gas prices over the past year has spurred people to drive more, which in turn puts more pressure on gas refineries. They don't see retail gas prices coming down until the fall, when the summer driving season lets out.
Still, some observers point to soaring profit margins at refineries as evidence refiners are taking advantage of lower oil prices to pad their own pockets.
In California, where refineries' profit margins have doubled recently, consumer groups are calling on the government to crack down on "gouging" of consumers by refiners.
But a spokesperson for the Western States Petroleum Association says refinery troubles earlier this year limited the available supply of gas. Both ExxonMobil and BP suffered shutdowns of their Chicago-area refineries this spring.
"The function of supply and demand work very efficiently to make sure that there's fuel at that pump," Tupper Hull told the Los Angeles Times.
Also on HuffPost:
Five Reasons Gas Prices Rise