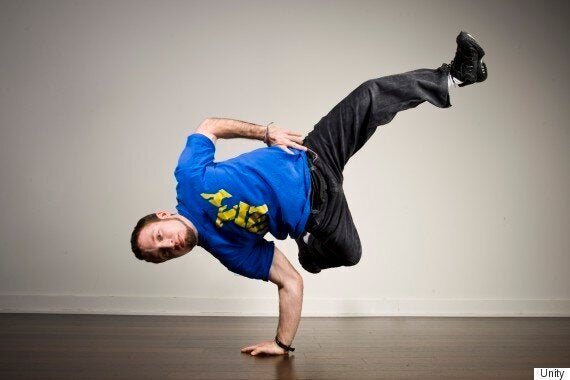 Ever since hip hop started out in the parks of New York's South Bronx four decades ago, the culture has been seen by some as a corrupter of youth. This, despite the fact that the music developed as a means of bringing together a community ravaged by extreme poverty, gang violence and urban blight — and that breakdance battles became a replacement for street fighting when conflicts arose.
In fact, hip hop pioneer Afrika Bambaataa created a youth movement called the Universal Zulu Nation to reduce violence by cultivating creativity as far back as 1977. As the decades progressed, hip hop continued to help young, impoverished minorities deal with pressures from the crack epidemic, gang wars and mass incarceration.
This criticism of hip hop never really went away, though. So 30 years later, one young Toronto breakdancer is continuing that legacy by proving hip hop is a tool for positive change through his Unity organization.
"Hip hop is the perfect tool for youth to express their stress," Unity's executive director Michael "Bboy Piecez" Prosserman tells The Huffington Post Canada. "We tell youth to turn their anger into art. It's part of so many of our artists' and youths' stories at Unity, using hip hop and the art forms we teach as an outlet, a voice and a vehicle to create change."
Prosserman initially founded Unity in 2007 when he was just 16 as a hip hop benefit, inspired by how breakdancing had helped him handle his mother's schizophrenia.
"I had to grow up faster than some of my friends around me," he recalls. "I am the type of person who builds up their stress internally and when I found breakdancing, I was able to let it all out in a healthy way."
Though Prosserman got accepted into Cirque de Soleil, landed a spot in the dance movie "Honey" and was travelling the world for b-boy battles by age 18, he also began beefing up Unity into a school club while at York University. Then tragedy struck as he was diagnosed with fused vertebrae, a chronic neck condition that meant he could no longer dance as a career.
So using breakdance — and other hip hop elements like rap, spoken-word, beatboxing and graffiti — to help others became his new passion in life.
"We teach youth to consciously express the stress in their lives through the art forms we teach so they're better able to cope with the many challenges that life presents to teens in today's society," Prosserman says. "When confronted by peers and influences in your community that are pushing you to make poor choices, you need to have the tools to define a positive future for yourself."
Unity is perhaps best known publicly for its annual festival in Toronto — which culminates this year on July 25, with a free daylong concert at Yonge-Dundas Square that pairs Unity participants with rap stars like Wu-Tang's GZA and local hip-hop hero Rich Kidd — but the charity is a year-round organization, with teachers from diverse backgrounds reaching 100,000 kids of all ethnicities across Canada.
"A lot of negative stigma goes with hip hop culture. There's that element to it that ties directly to the impoverished neighbourhoods in whatever city you live in. The places you wouldn't dare walk through because you might get robbed. The places where narcotics, weaponry and even prostitution have a stronghold on the community. Well... at least that's what the news would make it seem like," Rich Kidd wrote here back in 2013.
"To me, these neighbourhoods are hotbeds of raw talent and creativity. Some of the most artistic and wisest people on the planet come from these 'hoods because they have seen what most haven't — survived it to talk about it, and spread that knowledge to the young ones. A lot of people participating are concrete roses, beautiful people that grew up in ugly places."
Article continues after slideshow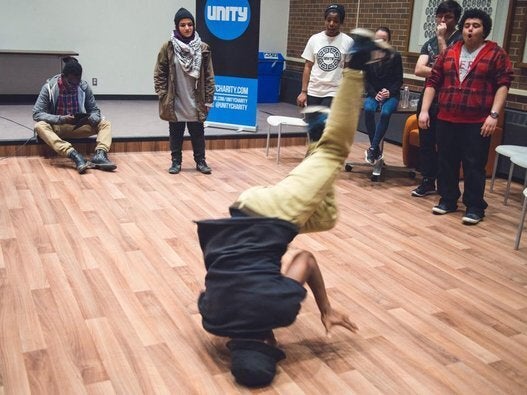 Through workshops, drop-ins and after-school programs in at-risk communities plagued by violence and drugs — not to mention the daily stresses of institutionalized racism and understandable anger arising from issues like carding — Unity encourages therapeutic self-expression, as well as teaching skill-building, goal-setting and empathy.
"By affecting these root issues through our programs, we hope to help create more productive young citizens, safer schools and healthier communities," Prosserman says. The organization's survey of 2000 students across 27 schools have found that 74 per cent said they now have "more ways to express their stress in a positive way" and 65 per cent said they feel more confident. They've also begun a research study to scientifically measure the positive benefits of their program.
But ultimately, they define the organization's success through the personal success of their participants, be that getting a great job, starting a business, going to post-secondary school or otherwise living out their dreams.
Though hip hop is considered an urban art form, the music has taken over youth culture everywhere, including Canada's rural indigenous communities. So besides the programs they have operating in Nova Scotia, Quebec and Ontario, Unity has also expanded to specifically reach First Nations and Inuit youth in northern Alberta communities such as Janvier, Anzac, Fort Chipewyan and Fort McKay. The group has also partnered with Blueprint For Life, who operate in Nunavut and Nunavik (northern Quebec), as well as youth detention centres across the country.
The kids may come for the hip hop culture, but they leave with much more.
"Our programs are aimed at engaging young people in life. By first caring about something, even if it's as simple as breakdancing, then a young person will start to see the relevance of things like school, work and their future direction in life.
"Everything is connected and having a passion can be equated with having a purpose."