Earlier this month, Argentinian MP Victoria Donda Perez decided to breastfeed her 8-month-old daughter during a parliamentary session. She is now being praised on social media for demonstrating what being a working mom looks like.
The mother-daughter moment was captured on camera during a session of the Argentine National Congress at the Congressional Palace in Buenos Aires. In the photo, an array of baby toys and items can be seen on Perez's desk as she breastfeeds her daughter Trilce.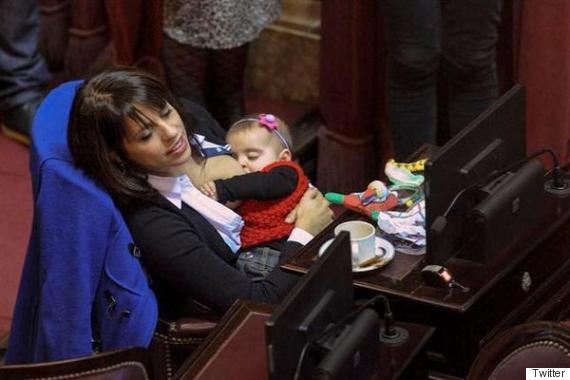 This is not the first time the 37-year-old has brought Trilce to work. According to Mashable, the mother has also brought her daughter along to meetings with constituents and even a meeting with Bolivian president Evo Morales.
Ever since Perez's breastfeeding photo hit the internet, she has been praised for balancing motherhood with work. "I admire her because many mothers leave their children at the nursery although breast milk is so much better than any food," a commenter wrote on social media.
Another said: "Victoria Donda goes to congress and between sessions feeds her daughter, while others ask for maternity leave. Good for her."
But while most social media users reacted positively to Perez's motherly actions, some were more critical, saying she should cover up or breastfeed in private. "She should cover her breasts with one of those special bras," one wrote. "You don't have to wander around showing your boobs."
Despite this, the photo proves that for full-time moms, the work never stops. As one user said: "Full time mom. In full session, Victoria Donda."
ALSO ON HUFFPOST:
Stunning Photos Celebrate Extended Breastfeeding