A photo of a Hamilton, Ont., bride and her three friends breastfeeding their babies together on her wedding day has captured our hearts.
Dundas, Ont., photographer Lindsay Palmer took the sweet snap in May, while bride Jamie Riddell was getting ready to walk down the aisle. Jamie, her maid of honour Jami, and bridesmaids Cheryl and Robin all gave birth within one year of each other. That day, they found themselves needing to nurse before the ceremony.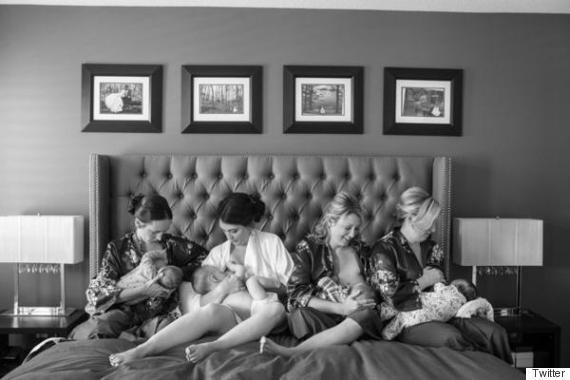 "The photo ended up being an impromptu decision," the bride told The Huffington Post. "We had been getting ready all morning, all of us casually nursing our babies when we really realized how awesome it was that we were all sharing in such an amazing milestone in our lives at the same time."
Coincidentally, photographer Palmer was also in the midst of nursing her own three-week-old at the time the picture was taken. On Facebook, she joked: "I should have done a selfie to add to the collection."
While breastfeeding shots aren't usually a part of wedding day photos, Palmer said: "As a photographer, I focus on storytelling. And as it turned out, all four women in the bridal party were nursing mothers."
As a doula in training and a breastfeeding advocate, Riddell has been overwhelmed by the support she's received on Facebook. She wrote: "I have such a passion for breastfeeding awareness and support (although I fully support women who do not breastfeed) and showcasing the love and beauty that comes with nursing your child.
"Although there has been some negative feedback (I had a baby out of wedlock, breastfeeding is disgusting, I am an exhibitionist, yadda yadda), the outpouring of love and support for our photo and breastfeeding in general has been overwhelming!! I am so proud to have had a tiny footprint in the crusade to ‪#‎normalizebreastfeeding."
The bride also told Today's Parent that the incident is one she will never forget: "This is a memory I will cherish forever. The love I have for these women and their children is so immense, and to have shared a moment in time like this together was so special."
ALSO ON HUFFPOST:
Celebrity Moms Who Support Breastfeeding