If they've told us once, they've told us a million times: Stop feeding the animals in our national parks.
Parks Canada released a video Thursday that shows a visitor feeding a black bear from a car on the side of the Highway 93 in Banff National Park last year.
The visitor was fined $1,000 for the illegal meal share.
While people who feed animals may have good intentions, it can lead to bad situations for humans and wildlife alike, said Parks Canada in a press release.
"We are sharing the ... video that helped lead to these charges in order to educate people about why the feeding of wildlife is dangerous for both people and animals, as well as to seek public support in the reporting of wildlife feeding incidents, which may further deter this unlawful behaviour."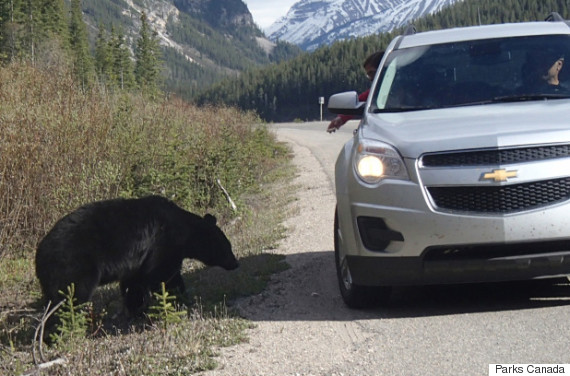 (Parks Canada is concerned with a recent uptick in people feeding animals in Alberta's national parks.)
Jim Mamalis, park warden supervisor for Lake Louise and Yoho, told the Calgary Sun there are currently eight ongoing animal feeding investigations.
"Five years ago even that would have been quite high," he said.
"Compared to the last two years, it's almost becoming the norm. It seems like the last two, three, four years it's exploded again."
People who witness wildlife feedings are asked to report these instances to authorities, including license plate numbers and a photo of the vehicle or person, if possible.
To report wildlife feeding, call 1-888-WARDENS (927-3367).
Like Us On Facebook

Follow Us On Twitter

ALSO ON HUFFPOST:
Baby Bears In Waterton Lakes National Park